This Wisconsin Cheese Soup is a classic midwestern cheese soup recipe, and it's made completely on the stovetop. Enjoy!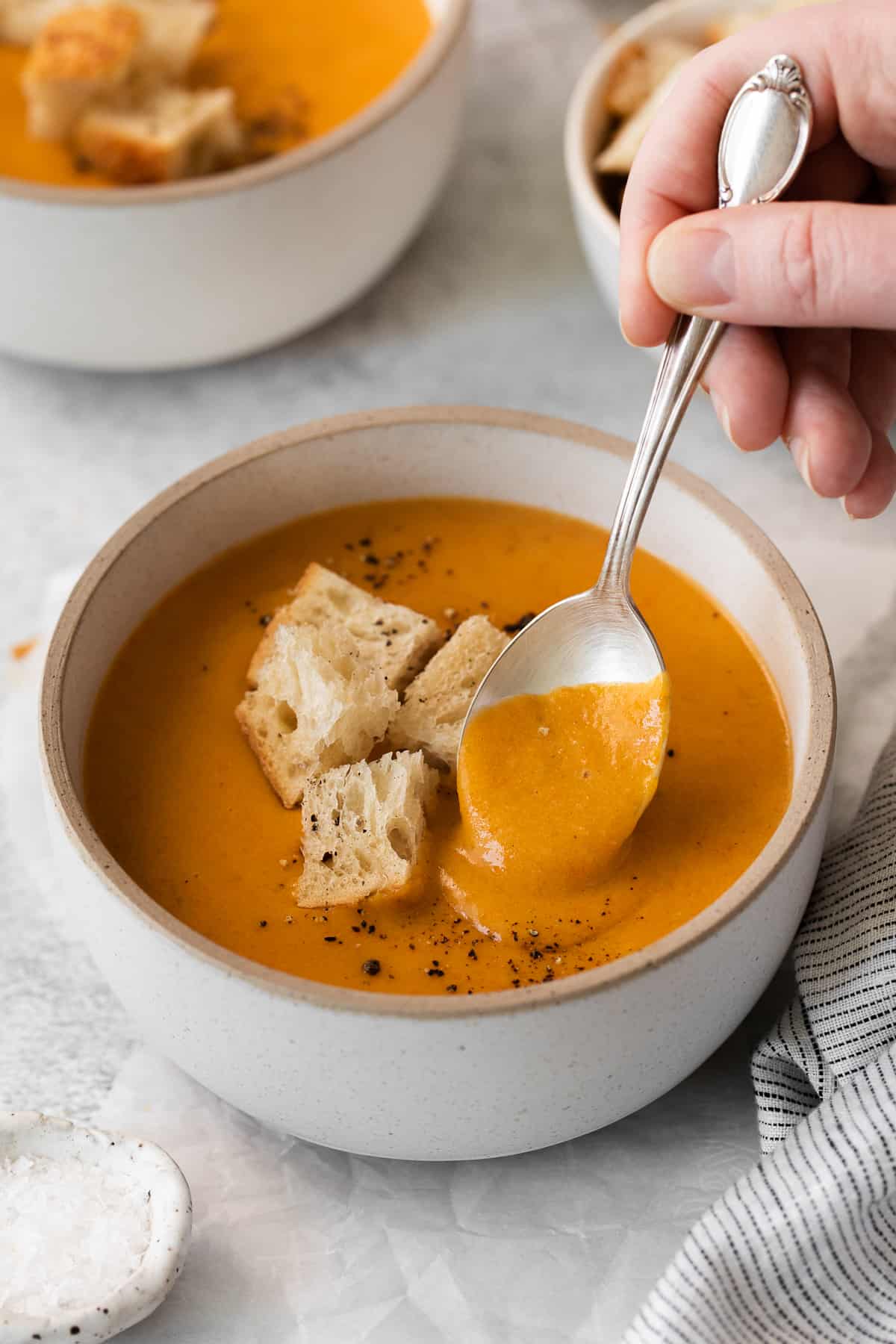 The BEST Wisconsin Cheese Soup
We mean it! This Wisconsin cheese soup packs in 2 cups of shredded sharp cheddar + a can of beer — does it get any more Wisconsin-y!? Pair that with blended roasted veggies and a creamy roux and you're off enjoying the best Wisconsin cheese soup on the internet.
why you'll love it!
Super duper creamy: the combination of a creamy roux and a ton of shredded cheddar gives you the creamiest of creamy soups!
Pairs with anything from croutons to popcorn: we're recommending a few topping options, including a Wisconsin fave — POPCORN.
Feeds a crowd: this soup will feed 6-8 hungry tummies!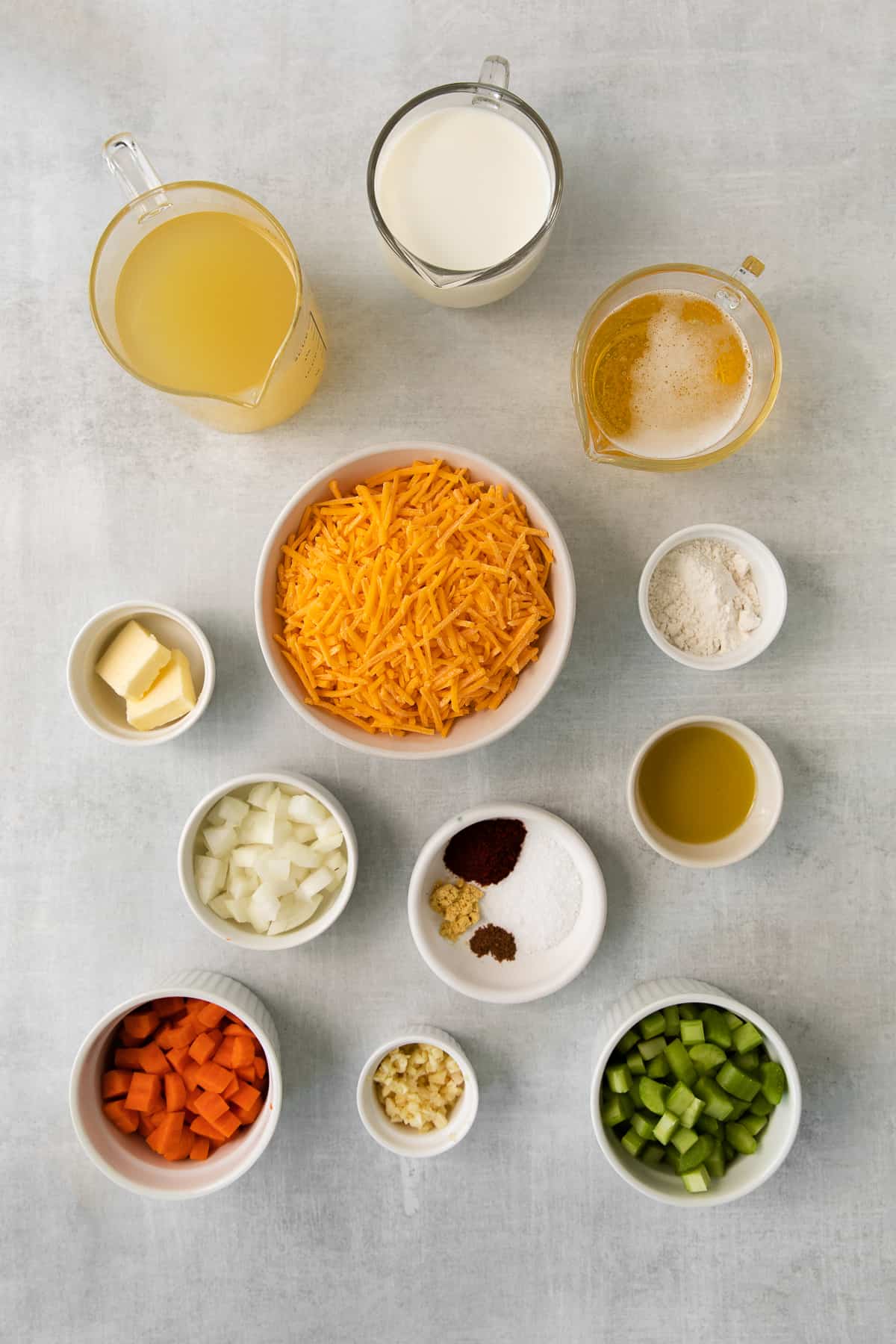 Wisconsin Cheese Soup Ingredients
Wisconsin cheddar cheese: we recommend shredding your own cheddar cheese! Why? Store-bought shredded cheese is tossed in additives to prevent clumping, and this makes melting a bit more difficult.
Diced onion, carrots and celery: you'll be sautéing these in your soup pot, and then blending with an immersion blender before serving.
Butter and all-purpose flour: this creates your roux!
Chicken broth: we love the flavor of chicken broth, but any broth will do!
Milk: for optimal creaminess, don't substitute this for a lesser fat milk! Reduced fat milk will work, but you will miss out on the creaminess that 2% provides.
Beer: would it be a Wisconsin cheese soup without the beer? We used one 12 oz. can of light beer, but any lager or blonde ale will do.
Minced garlic, paprika, dried mustard, nutmeg, salt & pepper: these simple seasonings bring out the deliciously cheesy flavors of this soup.
don't have shredded cheese?
Don't have shredded cheese, but have a block of cheese? Check out our post on how to grate cheese WITHOUT a cheese grater!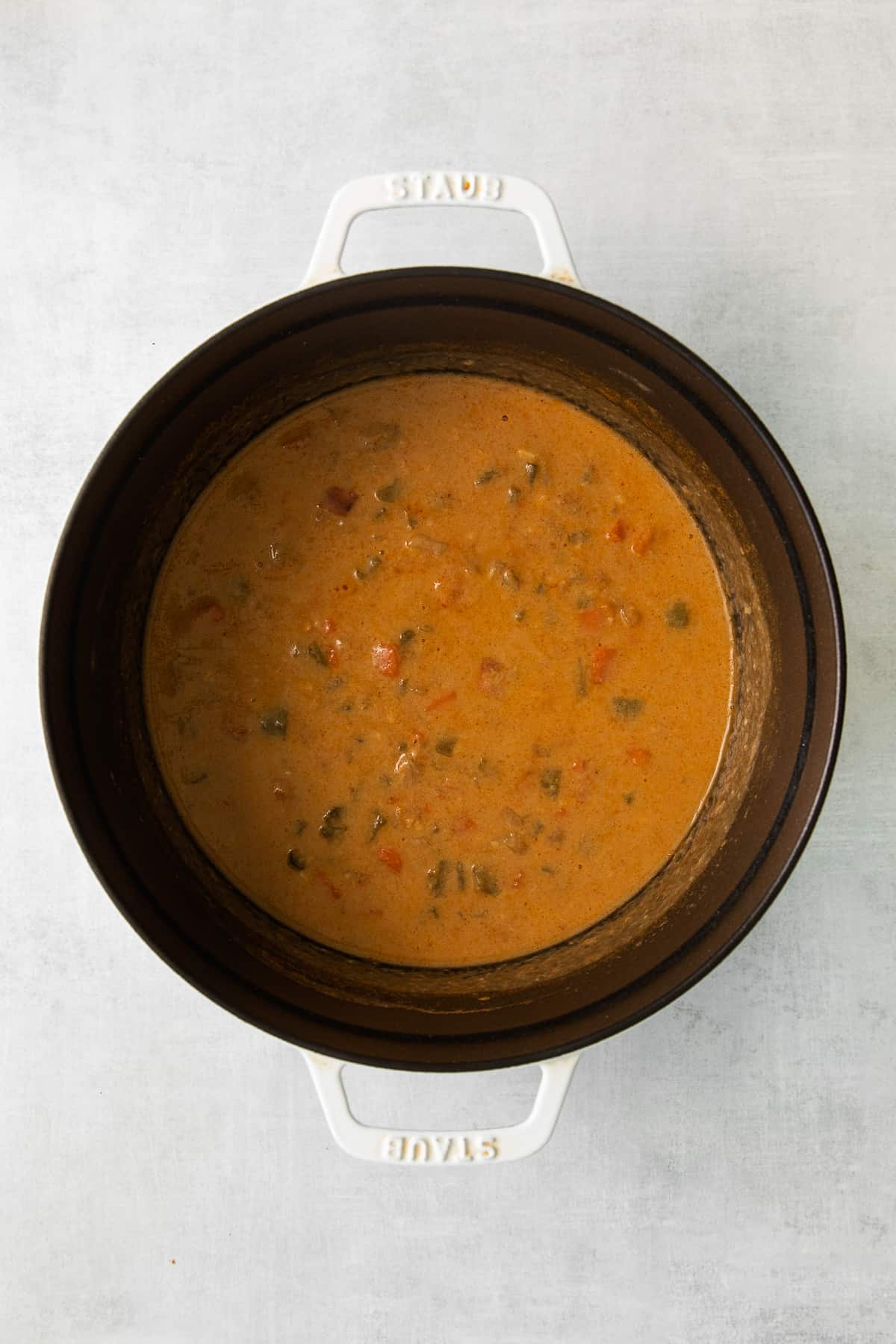 How to Make Wisconsin Cheese Soup
Saute veggies
Heat the olive oil in a large Dutch oven over medium/high heat, and add the carrots, celery, and onion, and cook for 5 minutes. Add the garlic and seasonings and cook for an additional 1-2 minutes. 
Add Liquid & Simmer
Next, add the butter and flour. This will create a paste on top of the vegetables. Whisk in the broth, milk, and can of beer. Be sure to scrape the bottom and sides of the Dutch oven. Bring to a boil and reduce heat to low, and simmer for 20 minutes. 
Blend Soup
Using an immersion blender, pulse the soup a few times to break up the vegetables.
Add Cheddar Cheese & Enjoy!
Add the cheddar cheese and cook for another 5 minutes. Serve immediately with your favorite toppings.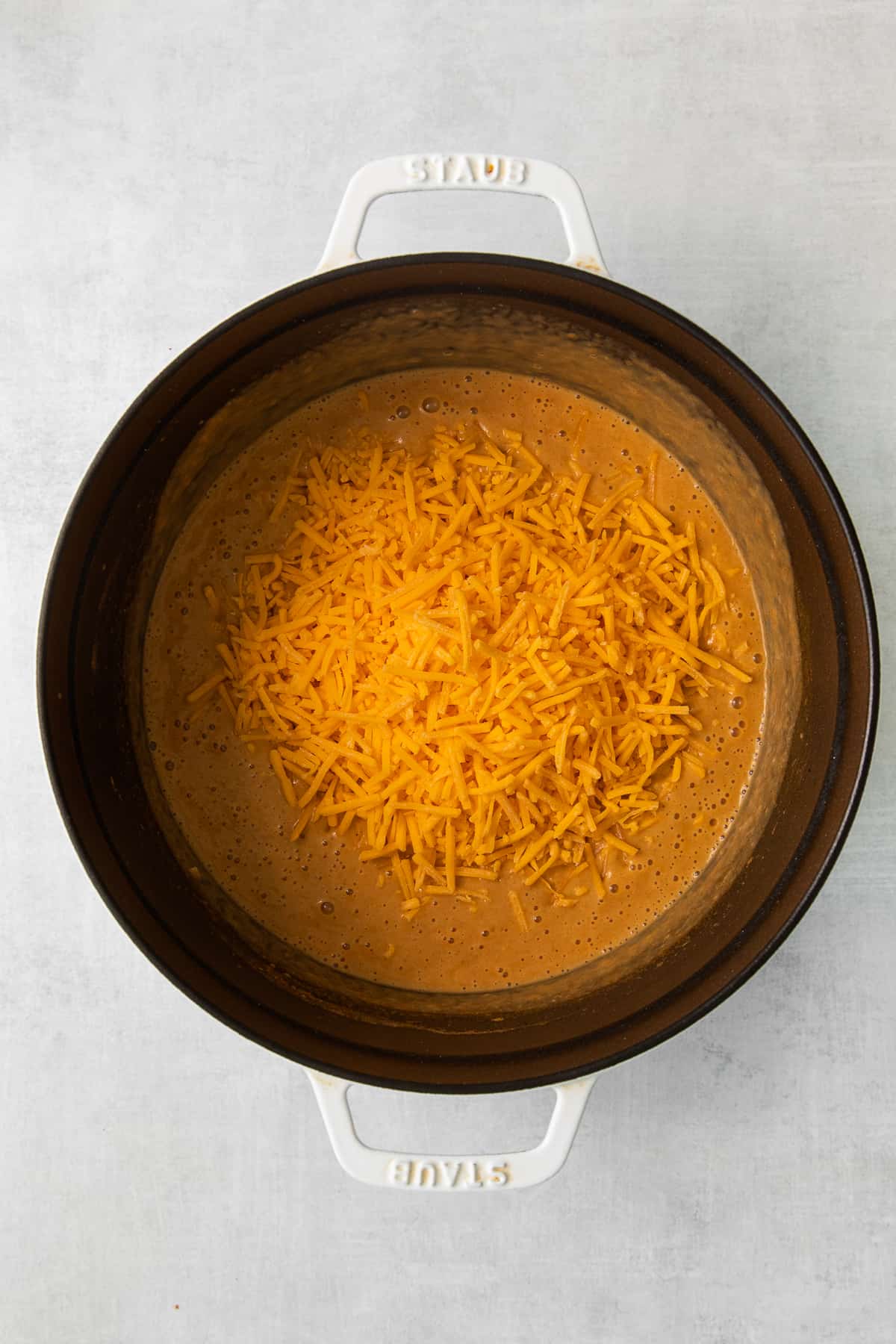 Wisconsin Cheese Soup Pro Tips
DON'T MELT CHEESE OVER HIGH HEAT
While it's definitely okay to sauté the veggies over higher heat, DO NOT add in the cheese over high heat. Cheese is finicky and drastic temperature changes can cause it to become clumpy and grainy.
Why is my Wisconsin Cheese soup curdling?
Sometimes cheesy soups will curdle because the soup has gotten too hot too quickly. The proteins have tightened in the cheese because of the sudden change in heat.
To avoid this, we slowly whisked in the cheese over low heat so that the liquid isn't scorching hot, but still warm enough to melt the cheese.
USING A DIFFERENT CHEESE
This is Wisconsin cheese soup after all, and we love the flavor and color that sharp yellow cheddar offers soup, but feel free to sub any semi-hard cheese 1:1. We recommend the following:
White cheddar
Medium cheddar
Gruyere
Gouda
Make it vegetarian
Instead of using chicken broth, feel free to sub for a vegetable broth to make this soup vegetarian.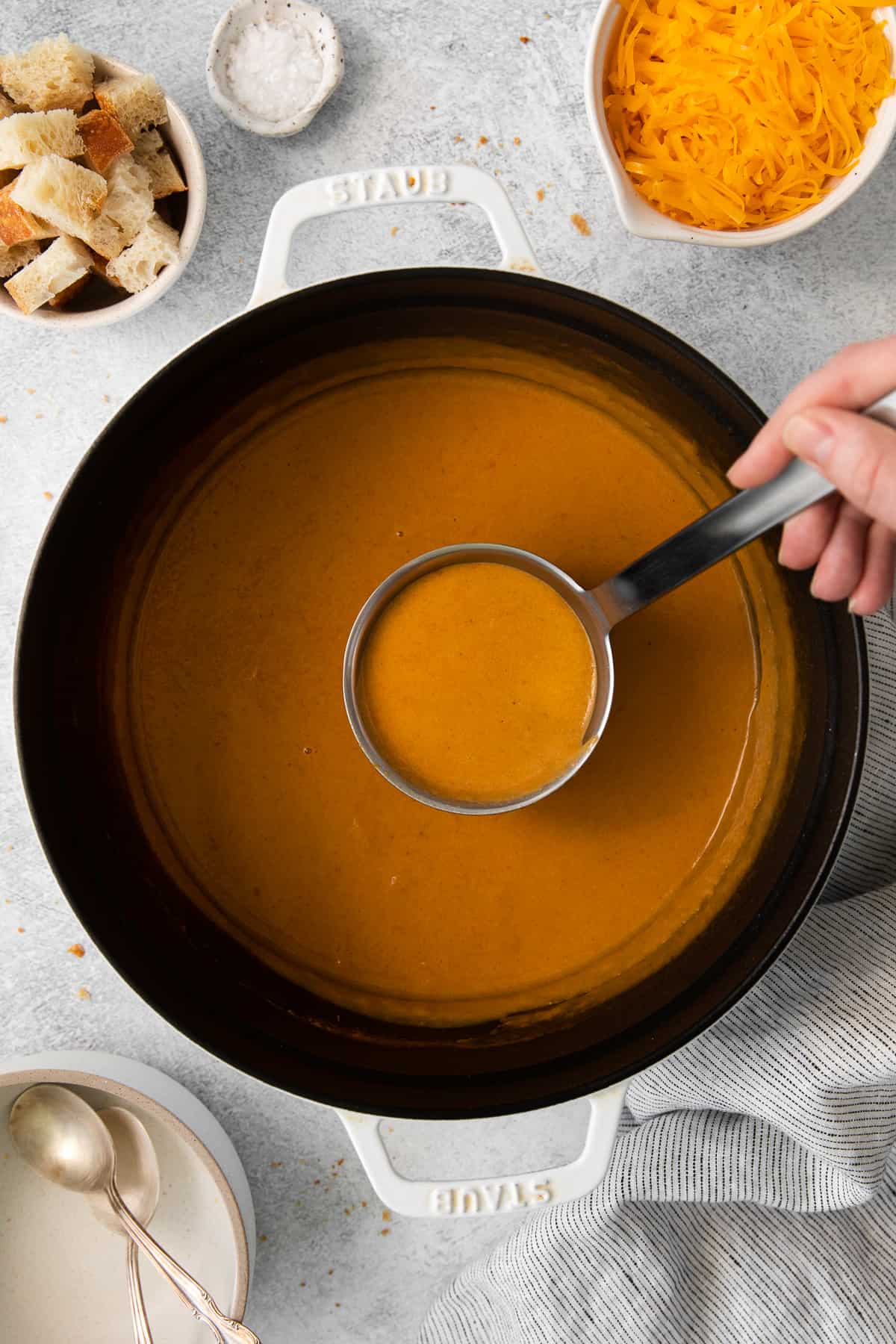 Toppings for Wisconsin Cheese Soup
This Wisconsin cheese soup is oh so yummy on its own, but who doesn't love a topping or two. We recommend:
Popcorn!
Croutons
Bacon bits
Chopped chives or green onion
Shredded cheese
Go ahead and dip a soft pretzel in this delicious soup!
How to Store Wisconsin Cheese Soup
Store this Wisconsin cheese soup in an airtight container in the fridge for up to 3 days.
When Reheating Wisconsin Cheese Soup: we recommend reheating just like it's cooked — LOW AND SLOW! Reheat on the stovetop on low, stirring frequently. This will help prevent any separating or uneven reheating. You may need to add broth when reheating if your soup is too thick. Start with a tablespoon and increase from there.
Freezing Wisconsin Cheese Soup: because cheese has a difficult time with drastic temperature changes, we do NOT recommend freezing this soup.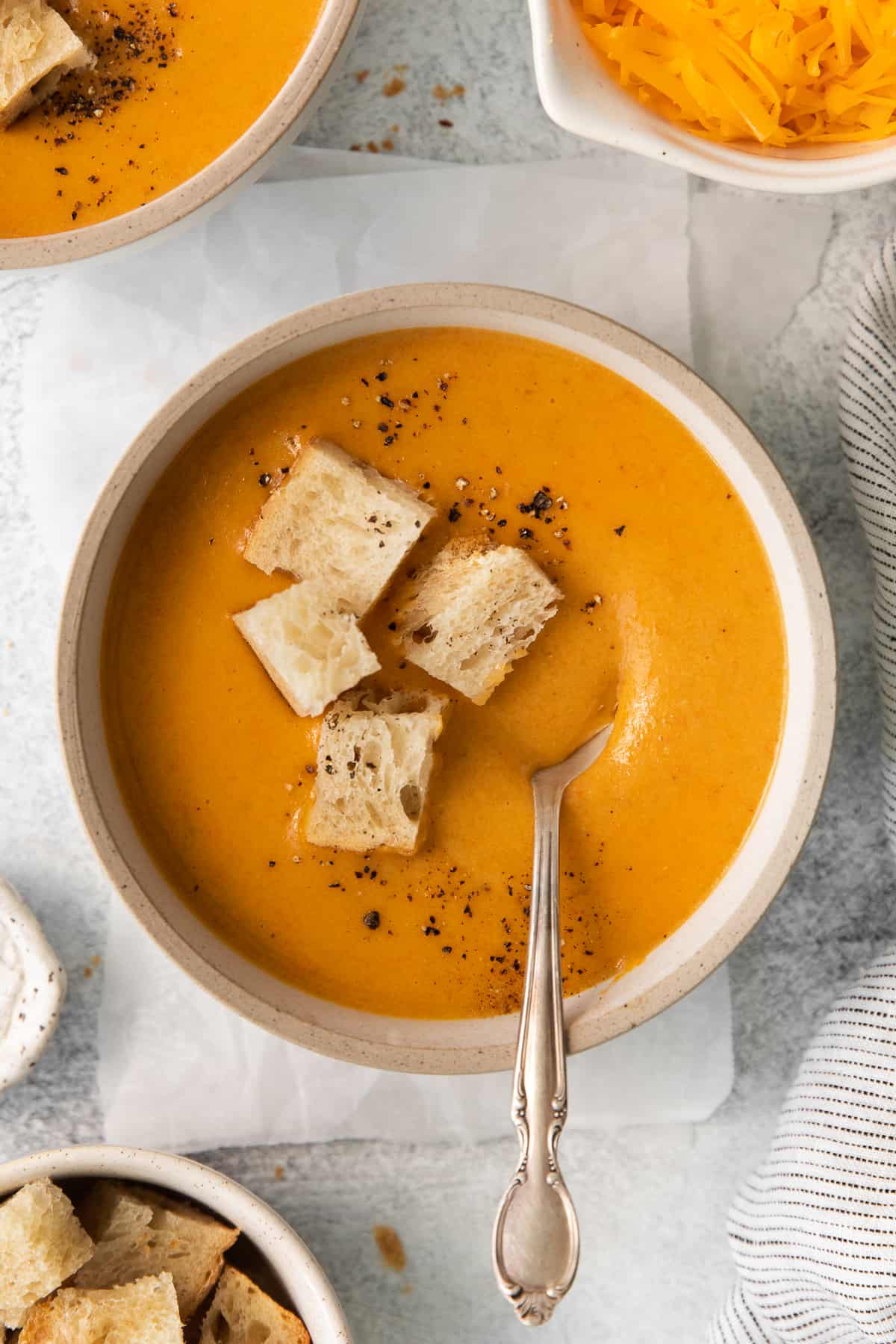 Source link