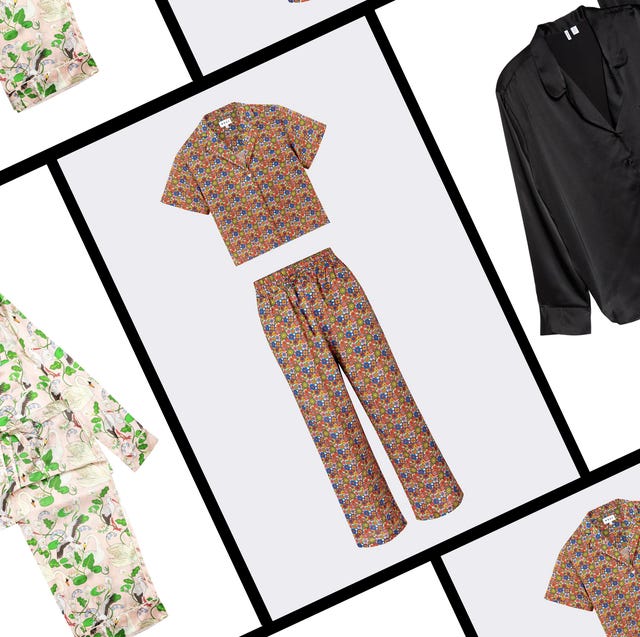 Courtesy
With daylight hours getting longer, sleep is an important part of wellness and enjoying the warmer months. Get an a.m. pick-me-up from the best plus-size pajamas in bright prints and juicy colors. Wrapped in your favorite robe, springtime mornings just became the best hours of the day. Ahead, shop the 14 best plus-size pajamas from a breezy J.Crew nightgown to Print Fresh's patterned sets.
Advertisement – Continue Reading Below
Puff-Sleeve Cotton-Linen Sleep Dress
This is a sleep dress that can do daytime duty. The puff sleeves add a nod to Bridgerton-era wardrobes, and the cotton-linen blend will keep you cool. Shop it in sizes XXS to 3X.
Gender Inclusive Oversize Nightshirt
A bright and fun printed nightshirt that sleeps easy, in sizes XS to 4X. Set into the clouds with the matching pants.
Cotton Sateen Short Pajamas
A captivating bright pajama short set that will have you start your day feeling ready for anything. It's available in sizes XS to 3X.
Fruit Medley Cami Cropped Pants Set
With a light, 100 percent GOTS-certified organic cotton poplin, this Print Fresh set has charming fruit motifs that are reminiscent of a farmers' market haul. Enjoy brunch while wearing a gorgeous fruit platter, grounded in the solid white, in sizes XS to 6X.
No need to borrow from the boys. These menswear-inspired pajamas are luxurious yet relaxed, with a light texture. They're available in sizes 1X to 3X.
Lemon Zest Pintuck Nightgown
A lightweight cotton nightgown, in sizes XS to 6X, with a zesty hand-printed design. Whether it's breakfast in bed or a slow-moving spring morning, this gown is a bright start to the day.
Long Lounge Set Max Floral
Wray designs joyous, art-inspired clothing, and the bold floral of this PJ set makes them a bed-to-brunch option. Styling the pieces as separates takes these to the next level.
Plus Size Silk Pajama Set
Shorts pajama sets are a great way to ring in warmer weather. Stay slinky in smooth, sumptuous silk, in sizes 1X to 3X.
L'Appartement Babydoll Sleeper
Live your full Marie Antoinette fantasy in this nightgown available from size 5X to XXS. Selkie's signature, high-femme designs play in the sleepwear space here.
Botanical Gardens Silk Pyjama Set
Sleep in a garden, with an eye-catching print. These pajamas' peach color and mulberry flower motif are inspired by the artist's palettes from the 1950s. This set is available in sizes XS to 5X.
One Shoulder Kaftan Black Linen
A dramatic sweeping night dress in sizes XXS to 3XL that is easily worn out of the house as well as to sleep. With a nod to the '60s, this sleep dress feels like a movie star slumber.
Taking references from classic sleepwear, this lightweight cotton-linen set is vibrant—reminding us of more daylight and warm weather. It's available in sizes XS to 3X.
Short Sleep Shirt Leopard Print Linen Plus
Based on a men's classic chemise, in sizes Plus and X-Plus, this sleep shirt goes from bed to weekend and back to bed again. Its shape can work as a daytime dress, beach cover-up, or standard night shirt. One hundred percent linen keeps it breathable.
Still Life Silk Slip Dress
This boldly printed silk slipdress features a hand-illustrated still life print. Its added stretch and adjustable straps help you customize the fit, up to size 5XL.
This content is created and maintained by a third party, and imported onto this page to help users provide their email addresses. You may be able to find more information about this and similar content at piano.io
Advertisement – Continue Reading Below
Source link