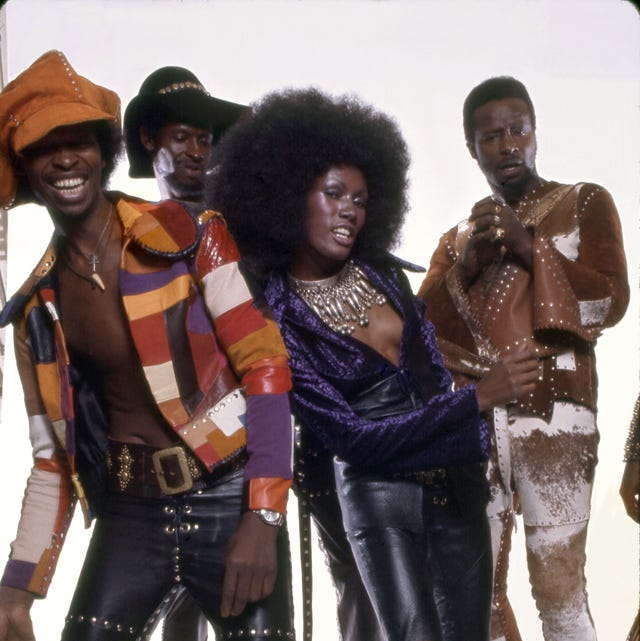 Anthony BarbozaGetty Images
The '70s differentiates itself as a decade in style due in part to an emphasis on tailored silhouettes, ease in style, and the Halston effect. Dresses made by the legendary designer are set apart due to his keen eye for simplicity and languid fabrications including cashmere and ultra-suede. The '70s was about the woman wearing the clothes and not the other way around.
From flares and bell sleeves to shearling coats and miniskirts, the era birthed an eclectic mix of style influences that evolved over a ten year span. Style icons like Jane Birkin and Bianca Jagger helped with the rise of disco and an unabashed embrace of glamour. Take a look back at some of the looks that helped define the decade's style—and continue to inspire today.
Advertisement – Continue Reading Below
Songstress Diana Ross is statuesque in a bronze satin dress with billowy sleeves. The languid fabrication is a hallmark of the decade.
The Three Degrees singing duo, Sheila Ferguson, Valerie Holiday and Fayette Pinkney embraced belly-bearing silhouettes and easy flares.
Goldie Hawn looks summer-ready in her yellow ruffled crop top and navy skirt. Ladies weren't afraid to experiment with color.
Bianca Jagger proved that she was the golden girl of the decade in this lamé halter-top dress. Studio 54 looks continue to resonate.
Lounging in a wicker hanging chair with floral accents, a model wears a long-sleeved tunic with sparkling tights and metallic cap-toe shoes. No one did boho better than the '70s.
Jackie Kennedy steps out in a classic black turtleneck, belted coat, and perfectly tailored trousers. It wasn't all disco dresses, tailoring was king.
A miniskirt-clad look that walked the runway at Pierre Cardin's fashion show in Berlin, Germany. Early 70s still had glimpses of '60s silhouettes.
Iconic '60s supermodel Jean Shrimpton lounges on a couch while wearing a floral minidress and black Mary Jane shoes. This look still feels relevant.
Catherine Deneuve layers a menswear vest over a classic green blouse, a floral-print knee-length skirt, and brown leather knee-high boots. Consider this look smart and sophisticated.
Diane von Furstenberg and husband Prince Egon von Fürstenberg wear matching checked button-down shirts and belted trousers. She wore looks beyond the wrap dress with ease.
It doesn't get more '70s than a multicolor patchwork dress featuring dramatic bell sleeves.
All leather everything. This casual red T-shirt keeps the burgundy patent-leather hat, jacket, and matching miniskirt paired with a black patent-leather boot from looking overdone.
Model Celia Hammond, who is now an activist against the fur industry, was snapped rocking a cozy shearling coat over her top, miniskirt, and knee-high boots. This look is pure cool.
A woman shows off a colorful faux-fur coat by designer Ossie Clark while walking down the street. Clark was a mainstay designer of the decade.
Hanging out on the beach, a model wears an orange sleeveless jumpsuit with her collar flipped up and the front zipper pulled down, adding an adventurous element to her otherwise laid-back outfit. Jumpsuits overall were all the rage.
Baring some skin in a jumpsuit from Lolli Popowska, this model pairs the daring look with a pair of crimplene stocking shoes complete with a low heel.
Model Monica Platne is photographed in a black-and-silver print dress and a matching head scarf. Coordinating your headwear to your dress was a mainstay.
Posing in fall foliage, this model wears a hooded fall coat featuring houndstooth detailing with a pair of boots.
A blue polka-dot maxi dress hailing from Christian Dior's 1970 spring/summer haute couture collection.
A model wears a bikini, a mesh cover-up dress, and white over-the-knee boots.
In Paris, a model wears a high-slit sweaterdress with lace-up shoes and a shoulder bag.
Supermodel Lauren Hutton stuns in a turtleneck minidress, patent over-the-knee boots, and a structural hat.
Two models wear cutout maxi dresses and block-heeled sandals on the street.
A model twirls in a Pierre Cardin jacket and matching ankle pants. She wears white leather booties, gloves, and a statement-making headpiece to complete the look.
Veruschka wears a barely-there halter top and ultra-low-rise pants for a fashion shoot.
French singer and actress Jane Birkin wears a wrap crop-top with shorts and peekaboo skirt.
A model is shot on the streets of England, wearing floor-grazing striped trousers, a matching double-breasted blazer, and a wide-brim hat.
A beaded mask and sheer floral-print look by Thea Porter hits the streets of London.
A model wears a paisley-print crop top and pants while posing on a seaside cliff.
Veruschka models a dress with dramatic sleeves and a sky-high slit.
A paparazzo catches Bianca Jagger at Heathrow Airport donning a crisp white three-piece suit, black blouse, and black bowler hat. If only all of our airport outfits were always as on point as Bianca's.
Grace Jones single-handedly revitalizes the leather trouser.
Wearing several of the decade's biggest trends, actress Nadia Cassini poses in a crocheted top, fur vest, miniskirt, and over-the-knee boots.
A model wears a white maxi dress and turban with matching white platforms.
Jacqueline Bisset wraps up in a printed shawl with dark-wash jeans and a black floppy hat during a photo shoot.
Twiggy lounges on a velvet couch in Justin de Villeneuve's home wearing a multicolored and textured outfit.
Flexing on the streets of London, fashion model Hazel wears a crepe playsuit from Ossie Clark's Quorum fashion show.
Models Endy Cartnell (left), in a spotted sundress and hat, and Selina (right), in a striped mini sundress and bolero, pose in London's posh King's Road.
While on vacation on the Cote d'Azur in the French Riviera, Jane Birkin looks casual in a pair of bell-bottom jeans, platform heels, and a white sleeveless top.
Proving the '20s also inspired the '70s, a nightdress by Janet Reger is inspired by silent film era actress Clara Bow's glamorous style.
A model wears a white turtleneck under a dark-wash blue denim suit with flared pants.
This model wears a yellow trouser suit and cap while buying a copy of the Evening Standard in England.
Chunky knit scarves, billowy sleeves, and striped trousers were fall fashion staples in 1975.
A model lounges on shaggy throw pillows in a colorful print caftan and layers of gold and turquoise jewelry.
English actress/model Joanna Lumley is photographed in a black turtleneck and puff-sleeve frock in London.
Shakira Caine is photographed in a jumpsuit from her namesake label, Shakira Caine Fashion Collection.
A model from Christian Dior's fall 1977 collection wears a red tweed suit and colorful tartan wool cape.
Model Pat Cleveland's hair and makeup perfectly complement the neutral Grecian-esque maxi dress she sports at a fashion show held at the B. Altman Department Store.
Debbie Harry poses in short shorts and a pair of thigh-high leather boots.
This content is created and maintained by a third party, and imported onto this page to help users provide their email addresses. You may be able to find more information about this and similar content at piano.io
Advertisement – Continue Reading Below
Source link