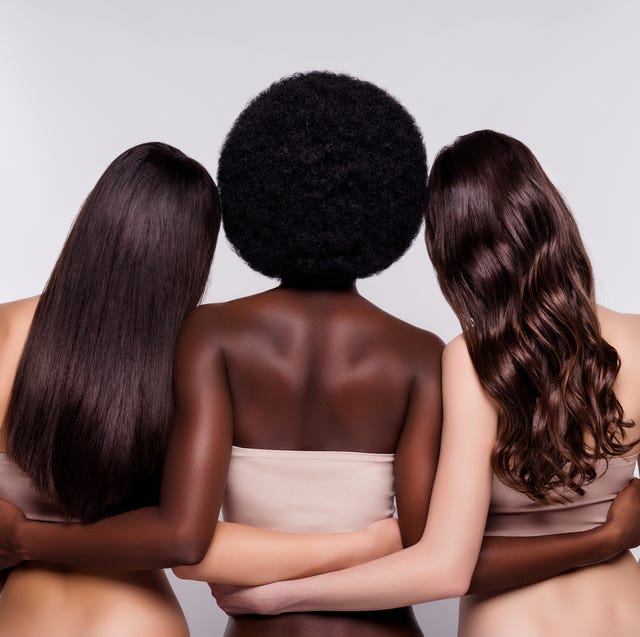 Larysa Vdovychenko
One F-word we cannot stand? Frizz. But the reality is, if you have hair, you've no doubt encountered it at some point in your lifetime. The thing is, everyone's frizz acts differently—meaning it can take years of trial and error to find the miracle product that works on your hair (yes, we're speaking from experience).
So we've rounded up some of the best frizz fighters on the market—and some of our personal favorites—to take the guesswork out of fighting your frizz. Whether you're working with thick coils or fine, straight hair, there's something for every type and texture. Because no one deserves to deal with frizz alone.
Advertisement – Continue Reading Below
Best for Extending a Wash
Acai Style Refresher
Designed to help you skip wash days, this acai-powered mist smooths and reshapes strands while adding soft hold and a subtle scent. It's basically your new BFF.
Best for Rainy Days
Dream Coat Supernatural Spray Anti-Frizz Treatment
Repels humidity and water
Hairstylists swear by this stuff for ultra-smooth hair that literally repels moisture (water beads will roll right off hair). Just spray it on and blow-dry smooth, and you've got a few days' worth of frizz-free style.
Best Hydrating Frizz Product
Air Dry Cream
Jonathan Van Ness did us right with this anti-frizz cream. It's packed with clean ingredients including hemisqualane, which smooths and strengthens hair while protecting color and reducing damage.
Best Frizz Cream for Curls
Curl Cream
Formulated on demand for your individual hair texture and needs, Prose's Custom Curl Cream helps smooth and hydrate every type of curl, from waves to coils.
Best Heat-Protecting Frizz Cream
Farewell Frizz Blow Dry Perfection Heat Protectant Cream
Protect your hair and fight frizz with this smoothing blow-dry cream. It features argan, rosehip, and coconut oils to help smooth, add hydration, and condition hair—all while protecting your strands from up to 450-degree heat.
Editor's Pick
Magic Myst Universal Elixir
"I've recently begun embracing my frizzy, curly hair texture, and this leave-in spray by celebrity hairstylist Riawna Capri has changed my hair game. It's great for day two—or five—when I just can't handle my texture. I spray it on, tousle a little, and I'm left with shiny, frizz-free hair that looks like it was just washed." —Jillian Ruffo, beauty contributor
Best High-Performance Frizz Spray
No Frizz Instant De-Frizzer
Living Proof has blown our minds on many occasions—but this one tops the charts. If the before-and-afters don't wow you, the real experience will. You simply spray it on and smooth your hair with your hands or a comb and watch the frizz flatten before your eyes.
Editor's Pick
No. 6 Bond Smoother Reparative Styling Creme
"I smooth a quarter-size amount of this on damp, just-washed hair; comb it through; and let it air dry. The result? Super-smooth, frizz-free curls every time." —JR
Best Frizz Cream for Thick Hair
Un-Frizz Cream
Humidity? Not a problem here. Ideal for medium-to-thick hair and all textures, this smoothing cream tames frizz and blocks out humidity. Plus, it can be used wet or dry for midday touch-ups.
Best Seller
Frizz Ease Extra Strength Serum
John Frieda's cult-classic anti-frizz serum got an upgrade, which now allows it to be used on wet or dry hair. The updated formula boasts protective benefits for heat styling, as well as all the same sought-after smoothing wonders of the original serum.
Best Frizz and Curl Mousse
Coconut & Hibiscus Frizz-Free Curl Mousse
Curly hair and frizz tend to go hand in hand—and SheaMoisture's curl experts have mastered the art of fighting it. This lightweight mousse shapes curls, leaving them shiny and bouncy without unwanted frizz.
Drugstore Deal
Dream Lengths Frizz Killer Serum Leave-In
Also acts as a heat protectant
In case the name doesn't speak for itself, we'll explain: L'Oréal's Elvive works some serious magic on frizz, and this serum is no different.
Best Frizz Touch-Up Wand
Hair Finishing Stick
Geniously packaged in a mascara tube, this hair finishing cream uses a mascara-like wand to smooth frizz and flyaways. You'll never deal with a messy ponytail again.
Best Fast-Acting Frizz Serum
Anti-Frizz Serum
This lightweight serum does exactly what you think it will. After styling, smooth it from mid-shaft to ends, then smooth the remainder at your roots. It'll flatten flyaways and frizz in mere seconds.
Best Frizz Balm
Anytime Anywhere Recovery Balm
Stash this in your bag for on-the-go touch-ups. It's an easy-to-use balm stick that instantly smooths frizz and flyaways in one swipe. And if that's not enough, the glide-on packaging means there's no residue left behind on your hands.
Frequently Asked Questions
How do I use frizz products?
They're all different, but most are applied either just out of the shower on damp hair before styling or as a touch-up product after styling. Go for a leave-in if you're looking to treat damp hair, or a serum or balm if you're focused on post-styling flyaways.
Should I also use anti-frizz shampoo and conditioner?
You definitely can't go wrong with a frizz-fighting shower regimen. Look for smoothing shampoos and conditioners, which help hydrate and smooth hair before you even style. They almost always result in a much-easier styling process.
What if I use too much frizz product?
Don't panic: It happens to the best of us. If re-washing isn't an option, grab a dry shampoo and spray it wherever you're feeling like there's too much product. It'll balance out the oil and help hide any extra residue until you can wash it out.
This content is created and maintained by a third party, and imported onto this page to help users provide their email addresses. You may be able to find more information about this and similar content at piano.io
Advertisement – Continue Reading Below
Source link