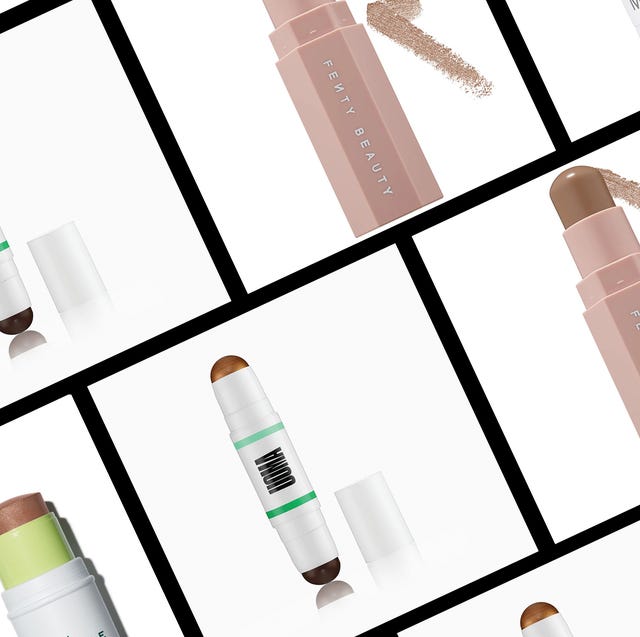 We love a good makeup stick. Stick foundations, eye shadow sticks, blush sticks, and, of course, one of the newer sticks to enter the scene, contour sticks. There are infinite reasons why they're at the top of our list of favorite contour methods, but we'll point out just a few. For starters, they're self-sufficient—as in, they don't require a brush to make it from the tube to your cheekbones. Another reason: They're the optimal size for travel or on-the-go sculpting. Throw them in your bag and they take up less space than a tube of mascara. And last (but, obviously, not least): They require little to no skill. Just twist 'em up, swipe them exactly where you want to sculpt, and blend. Boom. Perfect cheekbones. No notes.
Of course, not all contour sticks can be the best. That's why we've rounded up 10 of our absolute favorite contour sticks that you should probably add to your rotation ASAP.
Advertisement – Continue Reading Below
1
Pro Tool
SoftSculpt Shaping Stick
We can't talk about contouring without mentioning the master of the art, Mario Dedivanovic. He essentially put the makeup look on the map (via the Kardashians' faces); therefore, it's no surprise that his namesake contour stick is an actual magic wand.
2
Drugstore Deal
Wonder Concealer Stick
Works as a concealer and contour stick
This double-sided stick features shades for both contouring and highlighting, and users swear by it. "I love how easy it is to contour my face with the wonder stick: It adds a nice natural glow to my face. I can't live without this product," one reviewer wrote.
3
Best Bronzing Contour Stick
Supernatural Stick Bronzer
Infused with jojoba oil, green tea, and sunflower seed oil, you'll score hydration along with your contour. Warm tones instantly liven the skin, while subtle shimmer delivers a naturally radiant finish.
4
Best for All-Over Contouring
Matte Bronzer
Use this bronzer stick literally everywhere: cheeks, eyes, lips, collarbones, arms, legs … you get the point. It's crazy easy to blend for a contoured look or all-over bronze.
5
Best Multitasking Stick
Huestick
Creamy formula can be used on lips and cheeks
Live Tinted founder Deepica Mutyala knew what she was doing with this creamy eye, lip, and cheek stick. One user says, "The formula is so creamy…It makes contouring so easy and I love the subtle look as it blends into my skin."
6
Drugstore Deal
Infallible Longwear Foundation Shaping Stick
Great multitasking product
Use this stick as foundation, concealer, contour, highlight—you name it. With more than a dozen shades, there's something for every complexion need.
7
Best Highlighter and Contour Stick
Double Take Contour Stick
Complete with both contour and highlight shades, Uoma Beauty's stick is buildable and long wearing, plus it comes in a variety of shades that cater to all skin tones.
8
Best for Blending
Build+Blend Contouring Stick
No brush? No problem. Get a perfect contour in seconds with the built-in blending sponge (and don't worry about getting any product on your fingers).
9
Best Matte Contour Stick
Match Stix Matte Contour Skinstick
In short: Anything Rihanna creates is gold. In more detail: This matte, blendable stick is a must-have, and like all Fenty products, the shade range is hard to beat.
10
Best Creamy Contour Stick
Sculpting Touch Creamy Stick Contour
This matte stick blends easily, covers imperfections, and is infused with African walnut oil and pistachio extract for a comfortable application.
11
Frequently Asked Questions
Should you use a contour stick or powder?
QQ: How dewy do you want to look? Contour powders will often leave your skin looking matte and airbrushed (unless, of course, there's shimmer in it), while matte formulas will leave your skin with a more hydrated look. It really comes down to preference.
Should you blend with a brush?
Nope! You can totally blend in your contour with your fingers, however some prefer to use a dense blending brush or a damp sponge.
What step in your makeup routine should you contour?
Typically, you'd want to apply your contour after foundation and before blush, bronzer, and highlighter. Think of it as framing the structure of your face. Once that's locked in, you'll have the perfect framework to finish the rest of your look.
This content is created and maintained by a third party, and imported onto this page to help users provide their email addresses. You may be able to find more information about this and similar content at piano.io
Advertisement – Continue Reading Below
Source link