Smoked cream cheese is about to become your new favorite cheesy dip! We're sharing a Tex Mex flavor and a steak seasoning flavor, and both are smoky and delicious.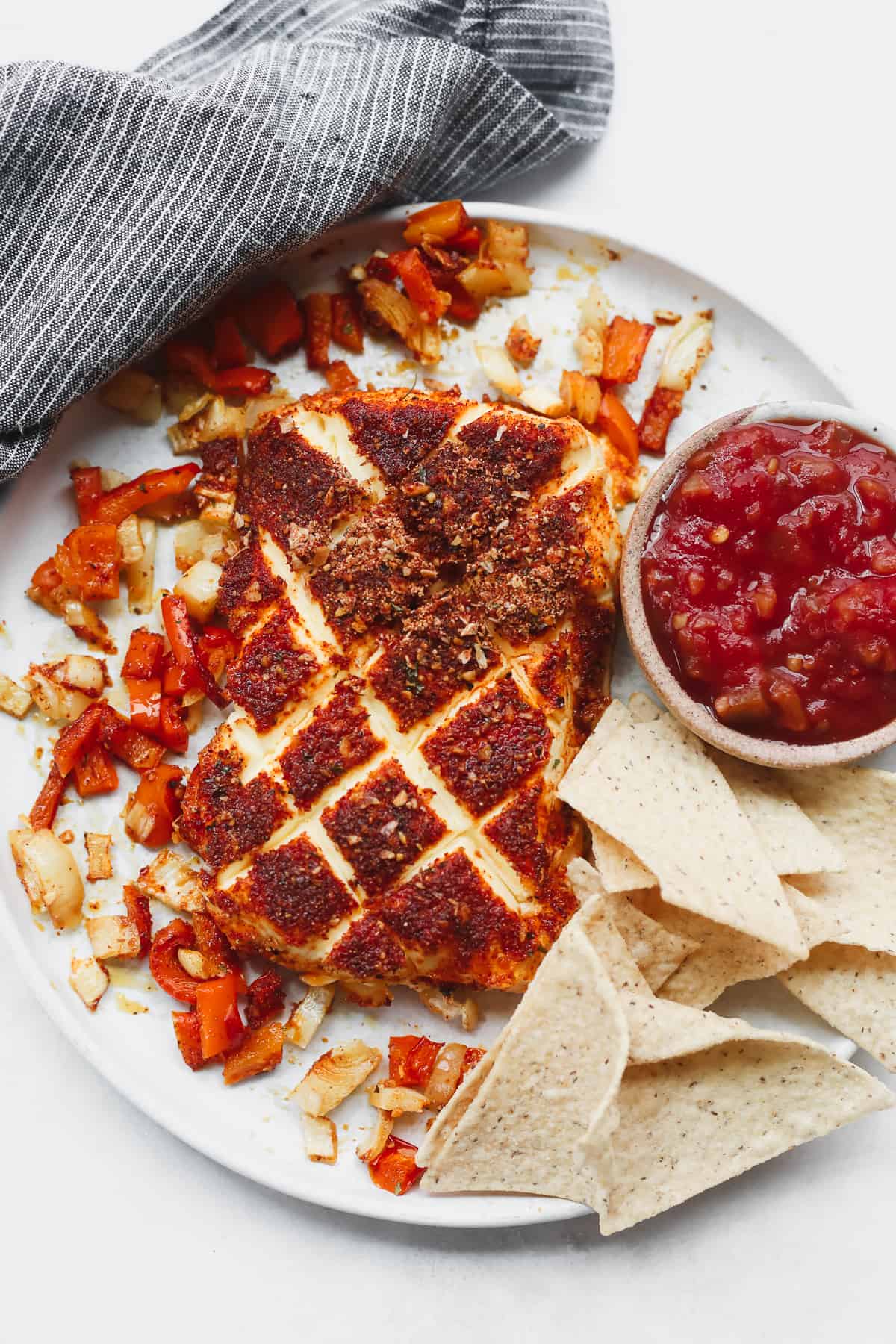 We're Loving Smoked Cream Cheese
Say hello to our new favorite recipe we're adding to any day we've got the smoker up and running! Smoked cream cheese is so incredibly easy to prep, and makes for a perfect appetizer that everyone will love.
why you'll love it!
Make it your own: Use any spice blend you'd like for a completely customizable flavor profile.
Versatile: Use as a dip, as a pasta sauce, sandwich spread, the options are endless.
Easy add-on recipe: Already have the smoker on for a smoked meat? Why not make this smoked cream cheese as well.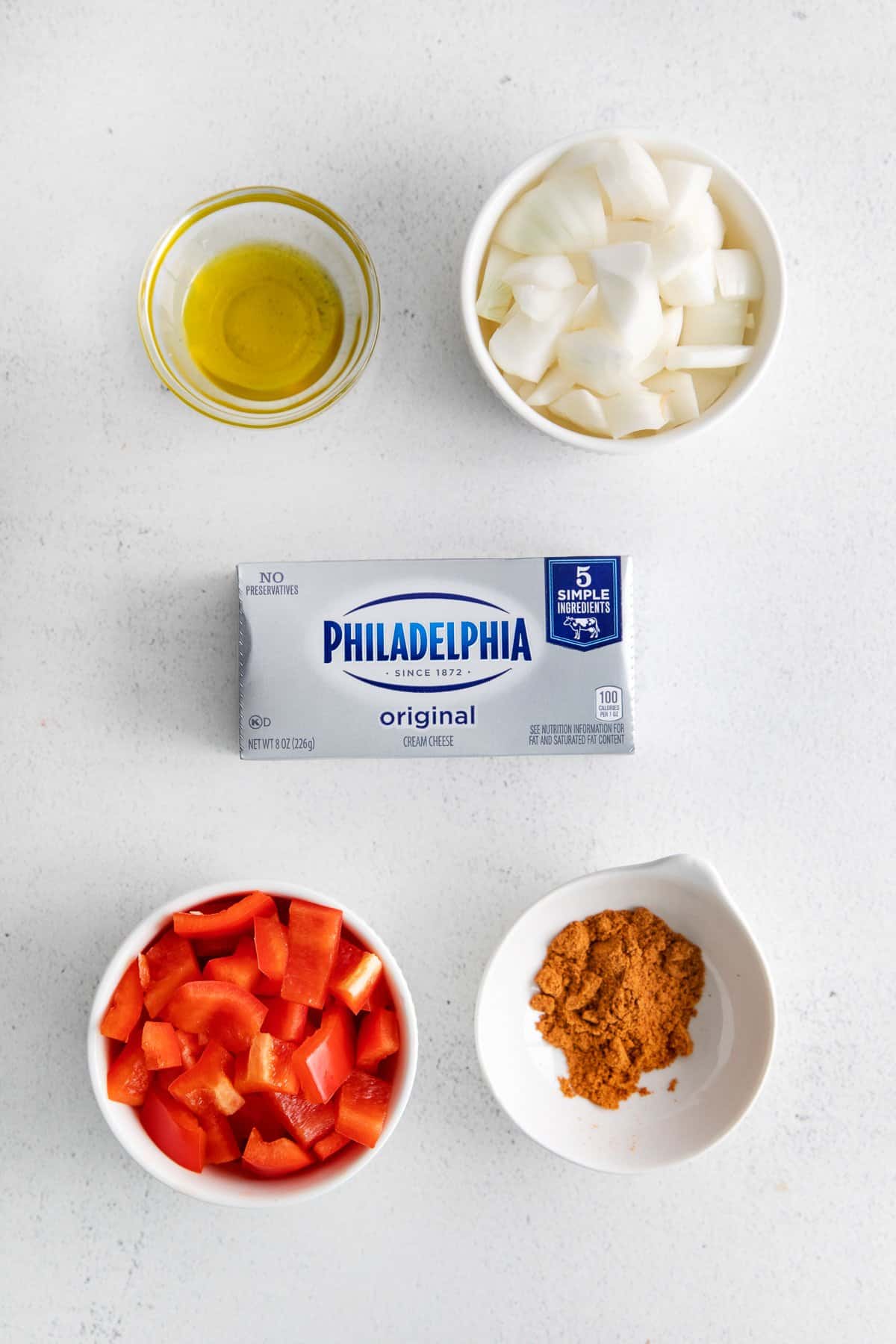 What You Need for Smoked Cream Cheese
Brick-style cream cheese: this smoked cream cheese recipe calls for 1-8 oz. brick of cream cheese, but feel free to smoke as many bricks as you'd like!
Two seasoning options: we're sharing a Tex Mex style seasoning as well as a steak seasoning flavor option. Both are oh so complementary with smoked cream cheese. Here's what you need for each:
Tex-Mex
Brick-style cream cheese
Taco seasoning
Diced white onion 
Diced red bell pepper 
Olive oil 
Steak Seasoning 
Brick-style cream cheese
Steak seasoning 
Sliced button mushrooms
Diced white onions 
Olive oil
choosing a smoker
There is a wide range of smokers out on the market now and we suggest using the smoker that you are the most comfortable with.
We used a the Traeger 575 Pellet Grill. A pellet grill uses wood pellets to heat the chamber. We love our Traeger pellet grill because the grill automatically adds pellets to the smoker to keep the heat at the desired temperature.
Other kinds of smokers: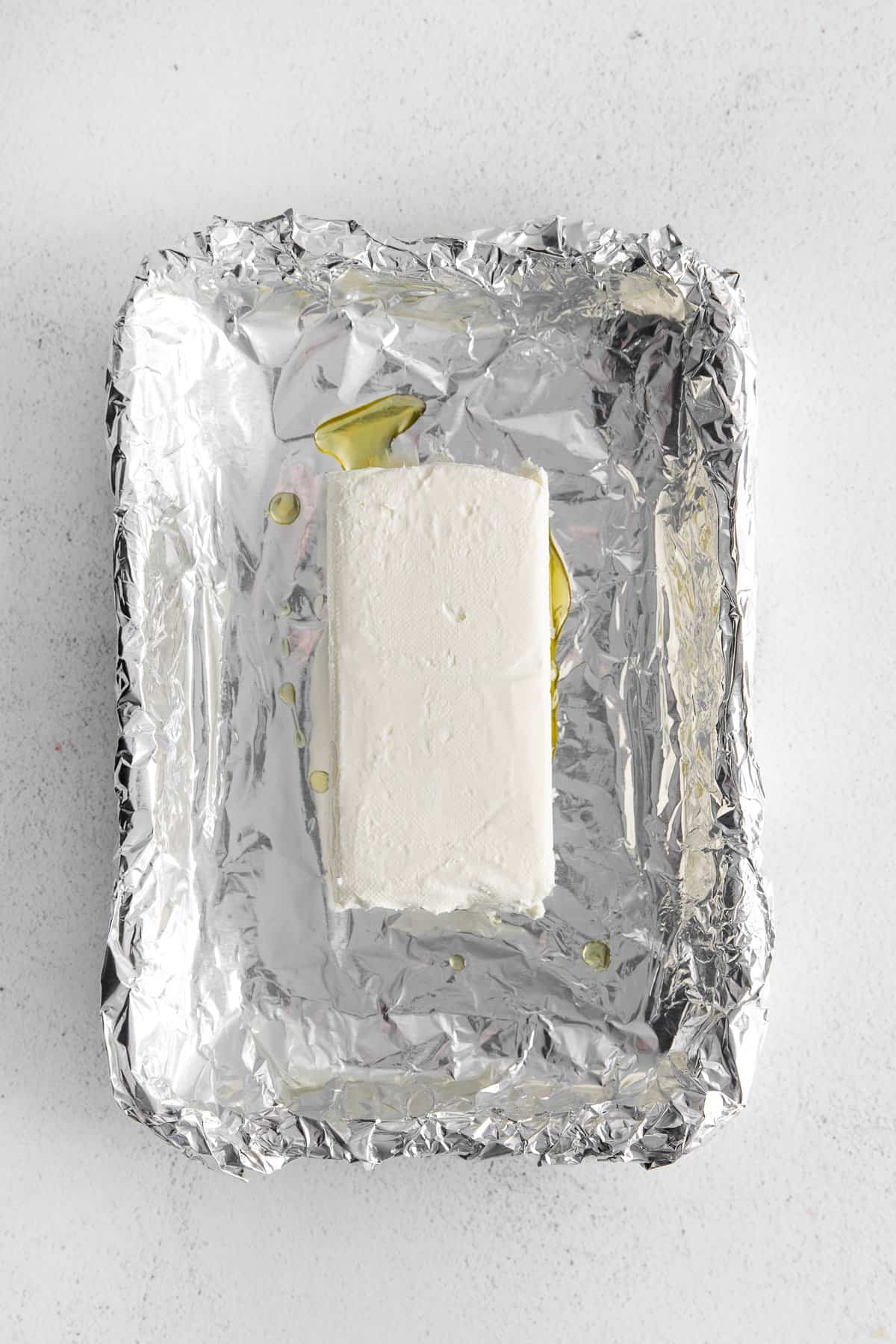 How to Make Smoked Cream Cheese
Preheat smoker + Prep cream cheese
Then, preheat the smoker to 220ºF and make a rectangular sized aluminum boat, and drizzle the boat with olive oil. 
Season Cream Cheese
Place the cream cheese brick on the aluminum boat and sprinkle the top with the seasoning. Gently press the spices into the top of the cream cheese. 
Sprinkle the vegetables all around the cream cheese block and drizzle the olive oil over the vegetables and cream cheese. 
Lastly, wet a chef's knife with water (this helps the cream cheese from sticking to the knife!) and slice a diagonal checkerboard onto the top of the cream cheese. 
Smoke Cream Cheese
Carefully place the tin foil boat onto the smoker and cover. Smoke the cream cheese for 2 hours at 220ºF. 
Serve & Enjoy
Remove the cream cheese from the smoker and serve with crackers, chips, vegetables, or crostini. ENJOY!
Serve it hot or cold? Both are delicious!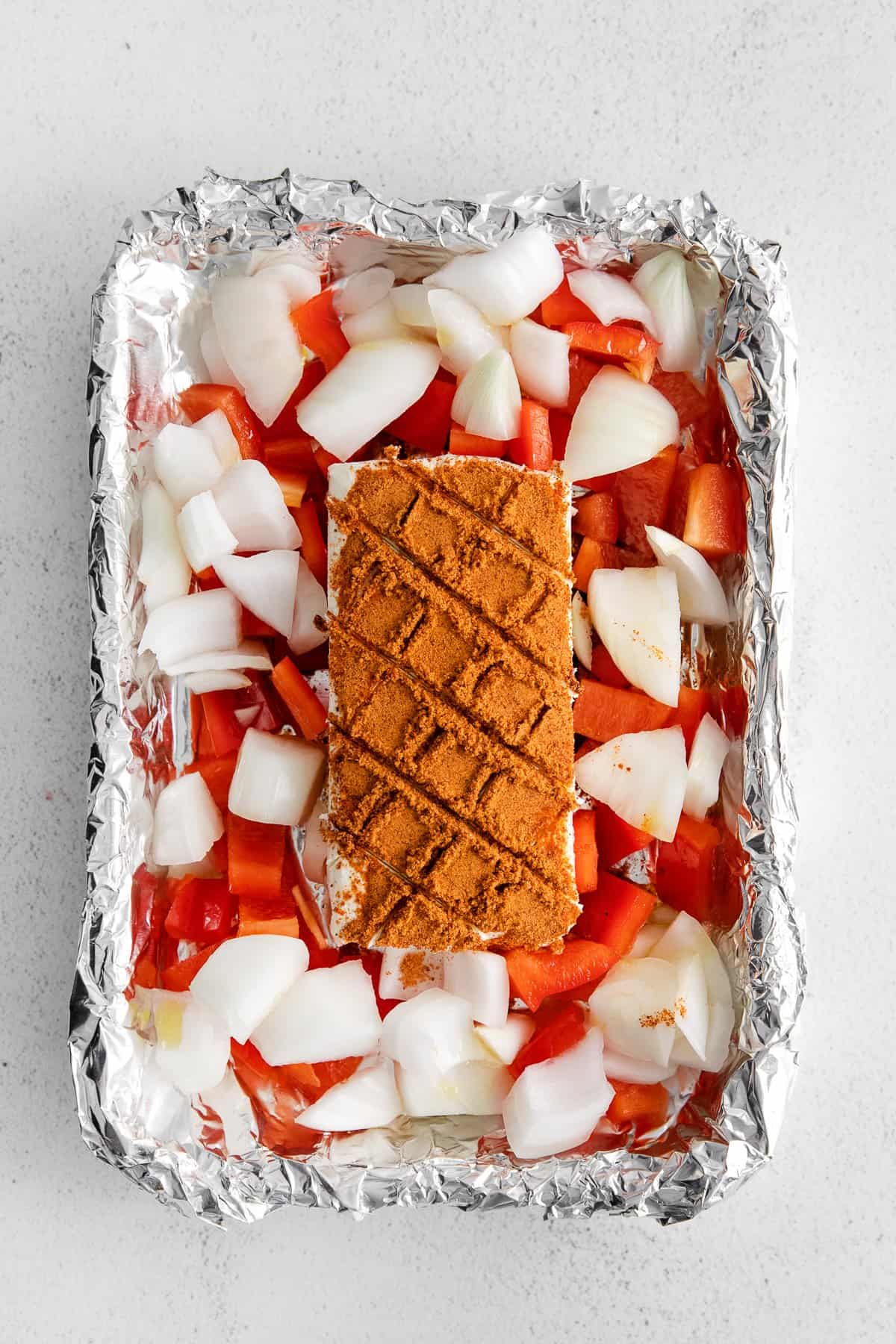 How to Serve Smoked Cream Cheese
Crostini
French bread
Tortilla chips
Sliced cucumber
Sliced carrots
Celery
More Smoker Recipes
Our sister site, Fit Foodie Finds, has so many tasty smoker recipes. Here are a few of our faves:
Storage
Store this smoked cream cheese in an airtight container and place it in the refrigerator for up to 7 days.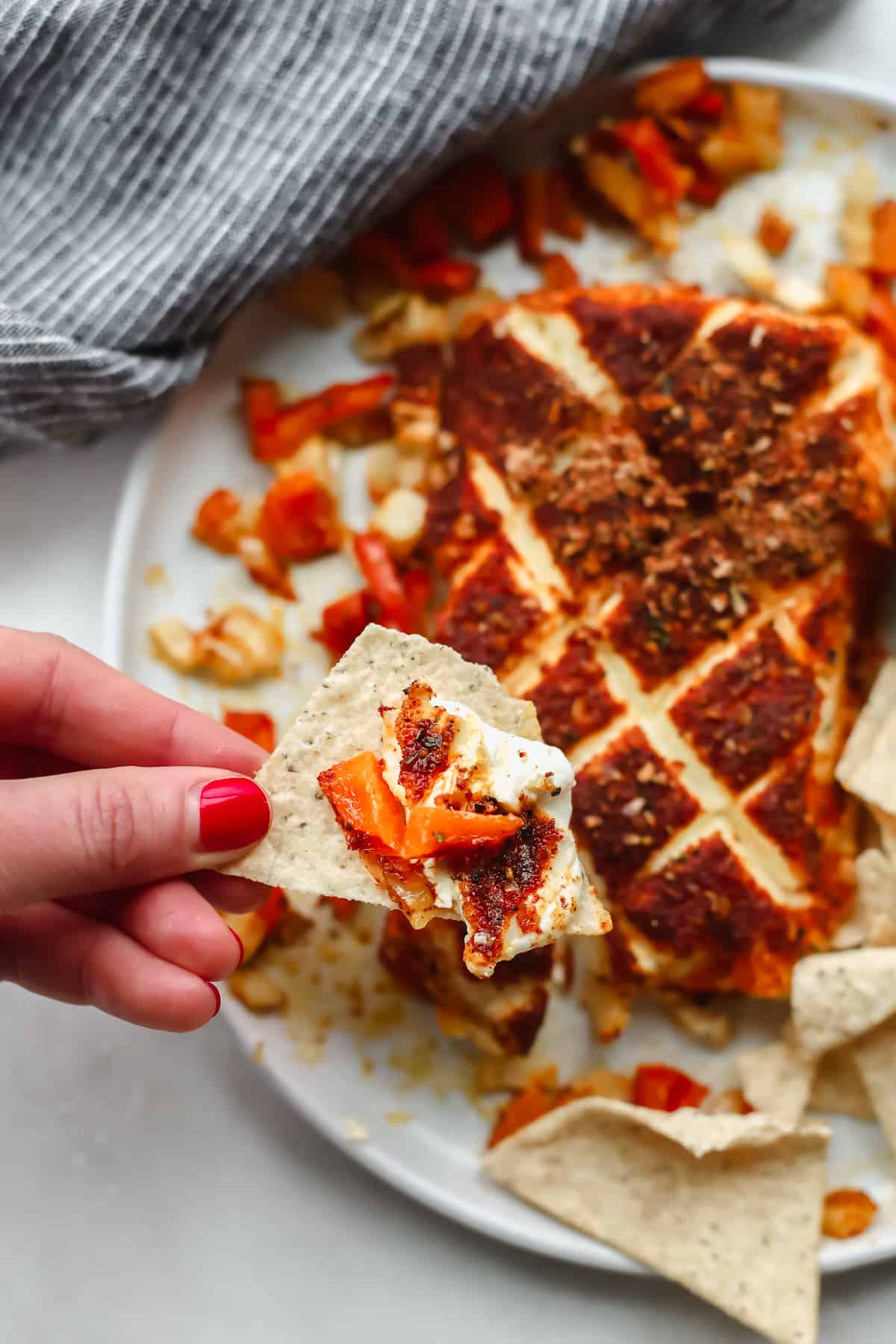 Source link