At Dior, couture craftsmanship goes beyond the clothes. Over the past few years, Dior artistic director Maria Grazia Chiuri has transformed her biannual couture shows into a platform for creative conversations with artists, featuring stunning handmade sets that are also art installations, consistently created in celebration of feminist artists and craftsmanship. Her list of collaborators includes some of the biggest names in contemporary art including Judy Chicago, Eva Jospin, Madhvi and Manu Parekh, Penny Slinger, and, this season, Mickalene Thomas, the American visual artist best known for her rhinestone-embellished figurative paintings and collages that celebrate Black and queer subjects ensconced in imagery drawn from the popular art canon. Several of the projects, including Thomas's, comprise enormous tapestries and have been realized with the help of the dab hands at Mumbai's Chanakya ateliers and Chanakya School of Craft.
Pioneering African American singer and dancer Josephine Baker served as Chiuri's muse this season, informing the collection's stage-worthy silk and velvet dresses decorated with fringing, delicate embroidery, and tiny silver studs and sequins. But she handed the scenography over to Thomas, who created 13 photo collages of a new pantheon of women who inspire her, which lined the wall behind the runway.
More From Harper's BAZAAR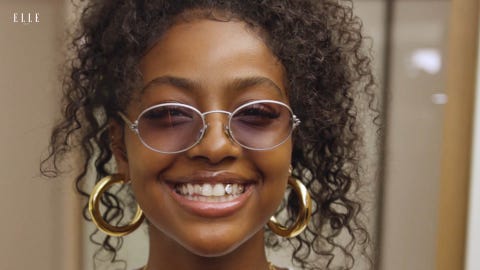 "The inspiration for the creative process developed through conversation about the importance of Black female role models that broke racial barriers by going against the grain and creating a new platform for many others," Thomas says.
Thomas used archival images to create the colleges of Baker and 12 other pathbreaking performing artists and activists from the course of the 20th century: singers Eartha Kitt and Nina Simone; supermodels Donyale Luna, Naomi Sims, Ophelia DeVore, and Helen Williams; actresses Dorothy Dandridge, Diahann Carroll, Marpessa Dawn, Lena Horne, and Josephine Premice; and jazz pianist Hazel Scott, the first African American woman to have her own television show. The collages were then digitally printed at cinematic scale on a textile base and elaborated with embroidery—including Thomas's signature sparkle—by Chanakya artisans.
"In choosing these twelve phenomenal Black women, across continents, the consideration was to research a diverse and eclectic group of women with the odds set against them," Mickalene said. "In spaces that attempted to reject or impede their success, they persevered with confidence, elegance, beauty and talent."
Thomas's use of the Chanakya ateliers to help finish her pieces is a testament to Chiuri's commitment to using craft to build bridges between global communities. Chiuri, who has long worked with with Chanakya artisans on ready-to-wear pieces, first enlisted their assistance for couture for Spring 2020, when she and Chicago commissioned 22 immense hand embroidered panels that lined a womb-like runway and posed questions like, "What if women ruled the world?" and "Would there be equal parenting?" For Fall 2021, Chanakya artisans created a nearly 400 yard tapestry featuring complex threads of interweaving trees designed by French installation artist Jospin. And for Spring 2022, the Chanakya artisans embroidered another set of 22 tapestries, this time transposing some of the Indian artist couple the Parekhs' paintings inspired by Hindu goddesses and regional folk-art forms onto cloth. Each one of these panels took an astounding 500 to 2,800 hours to create.
This project marks the third time that Chiuri and Thomas have worked together: on a mixed media Lady Dior Art bag in 2019, and on an interpretation of the New Look for the Resort 2020 collection, which was a Bar jacket featuring one of Thomas's collages in beading.
"These women have broken many barriers in television, film, fashion and social activism, says Thomas of her Spring 2023 pantheon. "It is because of their determination and sacrifices that I am able to make this work and be the artist I am today.
Source link