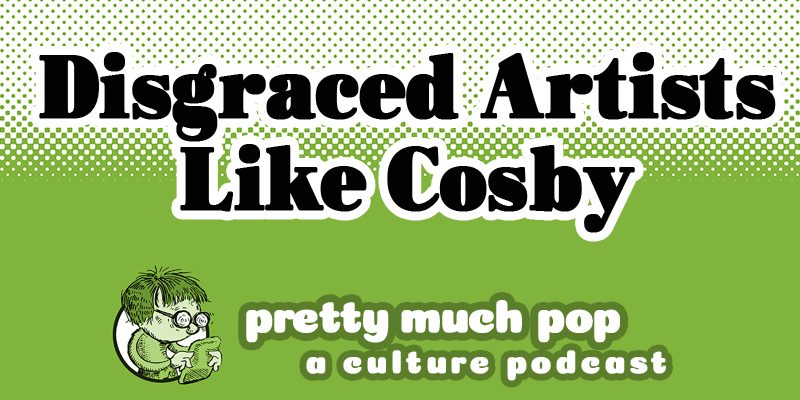 Comedian Genevieve Joy, philosopher/NY Times entertainment writer Lawrence Ware, and novelist Sarahlyn Bruck join your host Mark Linsenmayer to discuss how we as spectators deal with entertainers like R. Kelly, Michael Jackson, Woody Allen, et al. We all watched W. Kamau Bell's Showtime documentary We Need to Talk About Cosby, so most of our discussion is around that.
None of us seem able to separate the art from the artist, but this varies by art form, how much of the person's personality and values went into the art, and the specifics of the alleged crimes or bad behavior. Cosby presents such a dramatic, unambiguous case because he was so universally beloved, and vitally important to the black community, yet his crimes were so numerous, heinous, well documented, and thoroughly undermine the image that he sought to convey. Does our disillusionment with him perhaps reflect not just on rape culture but the importance we put on celebrity itself that made Cosby for a long time "too big to fail"?
It's fine if you haven't seen the documentary. You can experience Bell talking about it on WTF and in Slate. For in-depth info on the charges against Bill Cosby, try the Chasing Cosby podcast.
Follow us @CAtFightJOy, @law_writes, @sarahlynbruck, and @MarkLinsenmayer.
This episode includes bonus discussion featuring all of our guests that you can access by supporting the podcast at patreon.com/prettymuchpop or by choosing a paid subscription through Apple Podcasts. This podcast is part of the Partially Examined Life podcast network.
Pretty Much Pop: A Culture Podcast is the first podcast curated by Open Culture. Browse all Pretty Much Pop posts.
Source link