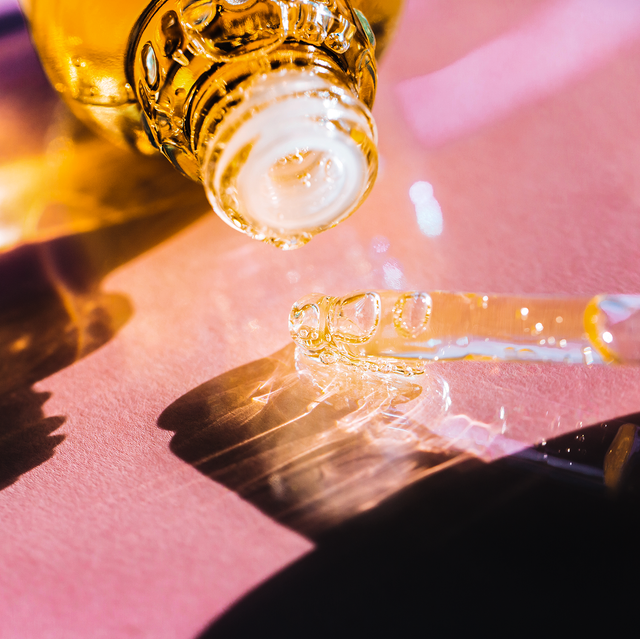 Getty Images
Whether you came to this article to learn how to remove stretch marks or prevent them from appearing, here's the honest truth: Stretch marks are a natural part of life for almost all humans, and there's very little you can do about them. Everything from quick growth spurts, to pregnancy, to just simply going about your life while genetically predisposed to getting stretch marks can cause the deep tearing in your skin, and guess what? Totally normal! Still, you might be hoping to treat your stretchies or avoid them best you can (completely your choice) and have heard some pretty convincing testimonials that stretch mark oil will do the trick.
But you know what they say. If it's sounds too good to be true—well, I won't spoil the whole article for ya. We turned to board-certified dermatologists Dendy Engelman, MD, and Caroline Robinson, MD, to find out everything there is to know about your stretch marks and how to potentially get rid of them. Find out if stretch mark oil really is a miracle, just a maybe, or a major myth, below.
Our top picks for stretch mark oils in 2022

Best Body Oil Treatment
Clarins Tonic Body Treatment Oil

Read More

Overall Best Stretch Mark Oil
Bio-Oil Skincare Oil

Read More

Best Dry Oil for Stretch Marks
Belly Oil Mini Me

Read More

Best Allover Body Oil
Elemis Japanese Camellia Oil Blend

Read More

Best Organic Stretch Mark Oil
Erbaviva Organic Stretch Mark Oil

Read More
If you came here on a mission for the best-selling stretch mark oils, see the shortened list above, but for a deeper look into these products and how to get the best results (if any), keep reading.
Advertisement – Continue Reading Below
Best Body Oil Treatment
Clarins Tonic Body Treatment Oil
Absorbs quickly into the skin
Dr. Robinson says plant oils in particular are a rich source of essential fatty acids and vitamins, which can help improve skin elasticity. This formula is 100 percent pure plant extracts, which is why it's a favorite after-shower body oil of the many reviewers who swear by it for smooth, supple skin.
THE REVIEWS: "I completely understand the hype about this oil and why it's almost always sold out. It is great! I've been using it in the mornings every day for the last week along with a cream from another brand and I am loving my skin right now."
Overall Best Stretch Mark Oil
Bio-Oil Skincare Oil
Dr. Engelman isn't the only fan of this skincare oil—it has nearly 97,000 positive ratings on Amazon for good reason: It contains PurCellin oil (a synthetic version of an oil that ducks, for example, spread onto their feathers to essentially help waterproof them and keep them flexible) along with vitamin A (to jump-start new collagen and promote cell turnover) and vitamin E (to nourish skin). Board-certified dermatologist Joshua Zeichner, MD, previously told Cosmo, "Bio-Oil helps hydrate and protect the skin, which allows it to heal itself optimally."
THE REVIEWS: "It has a very gentle smell, consistency is as expected and most importantly, it really does help with fading of scars and stretch marks," one reads.
Best Dry Oil for Stretch Marks
Belly Oil Mini Me
Helpful roll-on applicator
One major drawback of body oils is the greasiness they tend to leave behind. But this oil contains a combo of calendula, rosehip, and jojoba oils, helping it dry quickly so it doesn't stain your fave maternity clothes or bed sheets.
THE REVIEWS: "Love this oil. It is not greasy, feels great, absorbs great and smells good. While I dont think it will get rid of or prevent stretch marks, it makes me feel good using it."
Best Allover Body Oil
Elemis Japanese Camellia Oil Blend
Thick and slow to soak in
Beauty eds regularly sing the praises of this lightweight oil that easily absorbs into the skin. You can thank its magical blend of plant collagen, vitamin E, sweet almond oil, and camellia oil for keeping your skin's moisture locked in and hydrated all day. Oh, and you can use it as a hair, nail, and scalp treatment when you really want to treat yourself.
THE REVIEWS: "This is a great body oil. Absorbs beautifully, smells heavenly, and leaves the skin feeling smooth and soft."
Best Organic Stretch Mark Oil
Erbaviva Organic Stretch Mark Oil
If your skin can handle essential oils (they tend to be sensitizing FYI), this slightly aromatic, USDA-certified organic formula doesn't disappoint. It uses sunflower oil to soothe the skin, carrot seed to increase skin elasticity, and vitamin E to moisturize. Pro tip: To optimally hydrate areas that are prone to stretch marks (like the thighs, hips, breasts, and stomach), Dr. Robinson says to layer oils over your thicker moisturizers to prevent water loss.
THE REVIEWS: "I have the bottle in my bag and around lunchtime I go to the bathroom to apply, and it's perfect," one review reads. "It absorbs quickly, so I don't have to worry about it getting all over my clothes, and the scent is subtle enough that I don't leave the bathroom reeking."
Best Stretch Mark Oil for Pregnancy
Mustela Maternity Stretch Marks Oil
Aside from the visible effects pregnancy stretch marks leave behind, they can also leave your skin feeling insanely itchy as your skin stretches for your bb. Massage this fragrance-free and 100% plant-based oil into your skin and growing belly morning and night to keep it soothed and moisturized with help from sunflower seed oil, avocado oil, passion fruit oil, and vitamin E.
THE REVIEWS: "Like the texture and the smell isn't too offensive. I'm 30 weeks and have no marks yet, I doubt this is due to the oil but still, it makes my skin moisturized, lovely, and soft."
Best Stretch Mark Oil for Bedtime
Dr. Hauschka Blackthorn Toning Body Oil
Contains fragrance that could be irritating
Smooth on this sunflower and blackthorn-based body oil from natural skincare line Dr. Hauschka at night on top of your creams and wake up to skin that feels crazy moisturized by morning. Note: This formula also has a woodsy scent, so if you're sensitive to strong smells, you might want to move along to another on the list.
THE REVIEWS: "I mix this oil with my body moisturizer. It really works. Has a slight herbaceous smell, but I will keep using it forever," one reviewer wrote.
Best Anti-Aging Body Oil
Tata Harper Revitalizing Body Oil
Once you get over the sticker shock of this luxe body oil, you'll only care about how much you love it. This natural and nontoxic blend uses evening primrose oil for soothing benefits, camellia oil for anti-aging benefits, and a ton of other antioxidants and vitamins to address the signs of aging and potentially improve your skin's appearance.
THE REVIEWS: "I really loved this oil. It is indeed expensive, but it's worth it. My skin tells the difference from the first time. Smooth, soft, all I wanted."
Best-Smelling Stretch Mark Oil
Amareta Nourishing Belly Oil
You don't need a spring fragrance when you've got a body oil that smells as nice as this one. It'll help calm your mood with geranium and sweet orange oil while working to keep your skin hydrated your skin with sunflower and jojoba oils and vitamin E. Heads up: Fragrant plant-based oils aren't for everyone, so if you have sensitive skin or a plant-based allergy, it's probably best to skip this pick.
THE REVIEWS: "This oil has been amazing so far! It smells great and I was having some skin sensitivity from my growing belly and using this oil has really helped tremendously. I would highly recommend it."
Does oil actually fade stretch marks?
That's a big ol' nope. Dr. Robinson says many stretch mark creams, lotions, gels, and oils have been studied, and no single product seems to help consistently—and many don't even help at all. Not even in-office treatments, like laser therapy and microneedling that help stimulate collagen production, can totally get rid of your stretchies. And since treatment isn't 100 percent effective, all you're left with is prevention.
I know, I know—that's not helpful for existing marks, and that's also a lot easier said than done because hormonal shifts and family history play a big part in your skin. As Dr. Robinson points out, we don't have control over a lot of the factors that influence whether we will get stretch marks, but there are a few things you can do to help your skin barrier in general.
How do you prevent stretch marks?
Since stretch marks are a result of the body expanding faster than your skin is able to keep up, Dr. Engelman says keeping your skin moisturized and hydrated could potentially help it. "The more pliable your skin is, the less chance there is that stretch marks will appear," Dr. Engelman says. Still, no oil will get rid of your stretch marks, but applying oils to your skin can supplement the natural lipid barrier, which helps the skin retain moisture.
And because lipid barrier damage occurs on a daily basis from cleansing and other environmental factors, maintaining healthy skin requires the frequent application of lipids. In other words, while body oils may or may not do wonders for your stretch marks (Dr. Robinson says there's no evidence that consistently moisturizing your skin works to prevent them), they'll still help your overall skin health with virtually no downsides (although certain ingredients, like retinol, should be avoided by those who are pregnant).
How to choose the best stretch mark oil
Look for the right ingredients
Maybe this goes without saying, but the most important ingredients to seek out in your stretch mark oil are, well, oils. Dr. Robinson says plant oils, in particular, are a rich source of essential fatty acids and vitamins, and they can be potentially beneficial for the skin in many ways, including improving skin elasticity as well as having antioxidant, anti-inflammatory, and antibacterial properties.
For older striae (and for those who are not pregnant), Dr. Engelman recommends topical vitamin A derivatives, like retinol and prescription retinoids, to help to tighten the appearance of the skin and make stretch marks less visible. "Vitamin A promotes the formation of new collagen and assists in skin renewal, helping to increase elasticity and improve skin's texture and tone," Dr. Engelman says. It's also a good idea to look for vitamin E, which protects the skin from the effects of free radicals and increases the moisture content of the epidermis to make the skin soft, smooth, and supple, according to Dr. Engelman.
Choose between fragrance or fragrance-free
When you're dealing with plant oils, you're sure to find a lot of sensitizing scents and smells. If you know you're allergic to certain plants or have sensitive skin, Dr. Robnsion recommends sticking to fragrance-free products to avoid the risk of allergic contact dermatitis or a reaction.
This content is created and maintained by a third party, and imported onto this page to help users provide their email addresses. You may be able to find more information about this and similar content at piano.io
Advertisement – Continue Reading Below
Source link