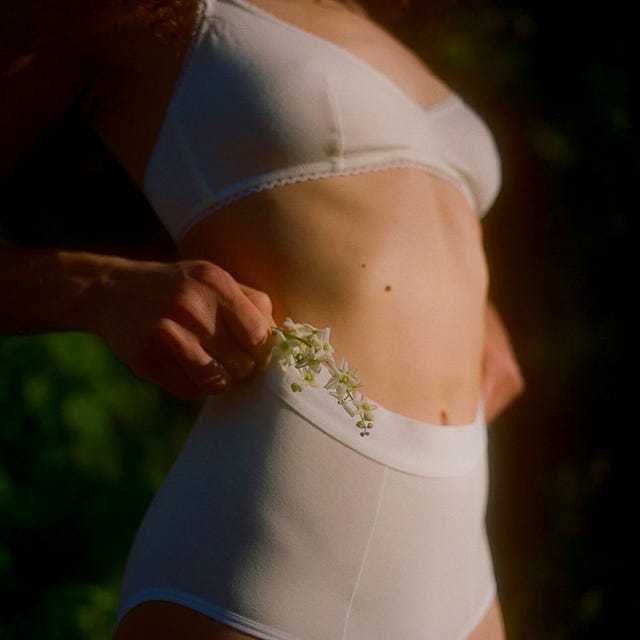 ThirdLove
Shopping for underwear sounds pretty basic (probably because your panties are basics), but there are so many factors to take into account. Obviously, comfort is key. You don't want to be walking around in a fire outfit with your panties riding up, waistband pinching, or the fabric scratching against your skin, making you completely miz. Style is, of course, another important factor, too. I'm just saying—the confidence you get from knowing that you're wearing a cute pair of underwear is powerful.
So because we don't want you to stress over finding the perfect pair of undies that check all the boxes (you've got more important things to worry about), we've gathered all the best underwear brands that'll provide you with the support, comfort, and cuteness your booty deserves. We've got the celebrity-helmed brands absolutely worth buying into, top-rated underwear on Amazon, the classic tried-and-true favorites, and the emerging underwear brands that are creating positive change in the lingerie industry. Whether you prefer thongs over boy shorts, vice versa, or a mix of cuts and styles, there's a perfect pair of panties waiting for you below.
Our top picks for the best underwear brands in 2022
---
From comfy full-coverage briefs to no-show seamless panties and playful lace lingerie, here are 40 underwear brands that carry all types of underwear and will have you feeling confident and covered (literally). Also, be sure to read all the way to the end for panty shopping pro tips from Sapna Palep, co-CEO of luxury lingerie brand Journelle.
Advertisement – Continue Reading Below
Cosabella
Never Say Never Thong Pack
A favorite of Dr. Palep's (and also mine), Cosabella offers intimates in a variety of styles and sizing. "Cosabella was the brand that popularized the thong back in the 1980s and coined the phrase 'no more visible panty lines,'" says Dr. Palep. And once you try out one of their famous thongs, you'll see what they mean.
A retailer that carries over 70 lingerie brands, Journelle is also a line of lingerie known for its luxurious fabrics and high-quality lace (p.s. it's Dr. Palep's line, too). Warning: once you try on a pair of these panties, you won't be able to go back to cheap, scratchy lace ever again.
MeUndies
FeelFree Cheeky Brief
The opposite of boring, basic underwear is MeUndies. With this brand, you still get all the coziness of your favorite frumpy-yet-comfy pair but with way more style and color. Shopping for underwear is a little risky, thanks to the strict return policies, but this brand allows you to try 'em out for 45 days and return them for a full refund if it doesn't work out.
Cacique
Stretch Lace Thong Panty
It's hard to screw up a pair of panties, right? Wrong! This underwear brand addresses all your common underwear complaints so you only have options that are soft, stretchy, and designed to actually stay put.
At Knickey, sustainability is a top priority and so is comfy underwear. If you want good quality, cotton undies, this ethical clothing brand has gotcha covered with six different styles and tons of color options.
As the name suggests, the undies from this line are so thin and light that it doesn't feel like you're wearing anything. Made with modal, microfiber, or super-fine knit and designed with raw-cut edges, these undies won't even show under your tightest pair of workout leggings.
Love, Vera
Embroidered Heart Thong in Black
For special occasion underwear (or everyday underwear if you like to look cute every day of the week), check out Love, Vera. If you're all about thoughtful details, you'll love all the embroidery, lace, straps, and appliques that make this line extra special.
Ruby Love
Period Underwear Bikini | Amethyst
If you're on the search for a pair of absorbent, leak-proof panties to replace all your pads and tampons, let me direct you to the brand Ruby Love. We're not only impressed by this line's period panties, which have 2.5 tampons worth of absorbency, but we're also big fans of the white range of sizes and styles.
Torrid
Black Lace Cheeky Panty
You already know and love Torrid, but if you didn't know how great their underwear section is, this is your sign to check it out. Choose your style (boyshorts, brief, hipster, cheeky, or high-waist) then flip through the dozens of colorways, materials, patterns, and prints for any and every occasion.
Tommy John
Second Skin High Rise Briefs – 3 Pack
What's better than one pair of Tommy John's underwear made from their famously soft fabric (IYKYK)? A pack of three pairs. The brand carries all coverage levels, but think of these as the underwear equivalent of cozy lounge pants.
EBY specializes in seamless underwear with a no-slip grip design, so you don't have to worry about VPL or your panties bunching during the day (or during workouts!). Aside from getting a super comfy pair of everyday panties, EBY also uses its profits to fund micro-loans for women starting their own businesses around the world to escape poverty, taking women's empowerment up a notch. The brand even developed the Women's Empowerment Principles with the United Nations and has pledged to work with no sweatshops to uphold environmental and social standards.
Nude Barre
4PM Seamless Thong
For many, it can be unbelievably hard to find truly nude underwear that matches your skin tone. But Nude Barre is changing all of that with its extensive collection of underwear that includes 13 different nude shades designed to match an array of skin tones. If you're looking for a solid, everyday panty, opt for the brand's seamless thong that's ultra-soft and really stretchy.
Savage x Fenty
Savage Not Sorry Lace Thong
Rihanna can do no wrong and her Savage x Fenty lingerie is no exception. Not only does the brand offer an inclusive range of sizes and styles, but the thongs are the perfect mix of sexy and comfy. Ideal for date night or everyday wear, the Savage Not Sorry Lace Thong is an essential for thong lovers.
Bombas
Women's Seamless Hipster
Yeah, I know. When you think of Bombas, you probably think of cozy AF socks, buuut they also have quality underwear. Their seamless hipster undies will literally feel like second skin. Plus, they come in a variety of hues and sizes.
ThirdLove
The Form Seamless Hipster Kit
ThirdLove is known for its wide range of bra sizes, and the same rings true for its underwear. These cheeky undies are available from XS to 3X, and reviewers say they feel so comfortable and super sexy at the same time.
Parade is known for using sustainable fabrics to create their super snug bra and underwear pieces. We suggest grabbing their cheekies if you want something that'll last you a v long time. They stretch to two times their size— e.g., if that peach of yours fluctuates or is between sizes, these bbs will still fit like a glove.
Negative Underwear
Cotton High Waist Brief
Negative Underwear has a range of cute and practical underwear options, but the Cotton High Waist Brief is by far the best for full-bum coverage. Also, although it is high-waisted, you won't find any lines or marks from the material on your skin.
Kim Kardashian West is killing it with her Skims undergarment collection, which has cozy, sleep-worthy bras and ridiculously soft fuzzy lounge pieces. Want something with comfy, I-stole-this-from-my-BF vibes? These high-waisted briefs with contrasting seams check all of the boxers, er, boxes.
Honey Love
SuperPower Brief
Honey Love is so thoughtful about the production of their undergarments to the point where every one of their products goes through one to two years of testing. If you're trying them out for the first time, choose their super high-waisted SuperPower style that'll keep everything tight and give your booty a lil boost… because who wouldn't want that?
Knix understood the need for both period underwear and a perfectly invisible panty line, et voilà. This seamless panty is leakproof and designed to absorb up to 3 tsp of liquid while still feeling comfortable and dry. And the smooth bulk-free design is also a major plus!!
Hanky Panky
Signature Lace Original Thong Panty
Hanky Panky has been a leading name in the underwear industry for decades, so you know you can trust them with your peach. Grab their cute and fun lace thongs, you won't regret it.
Anya Lust
Olivia Pearl Thong
For when you want to treat yourself to some ~playful~ undies and lingerie, Anya Lust has a range of brands to choose from. Plus, they frequently collab with lingerie brands like Marriage Boot Camp and Bracli on bold, luxe underwear styles (from pearl accents to rhinestones, lace sheer, and beyond).
Wacoal
Inside Edit Shaping Briefs
You might know Wacoal for its impressive bras, but the panties are also *chef's kiss* good. This high-waisted pair is ultra lightweight, which is a must on hot summer days, and it has some hidden contouring powers too.
Spanx
Under Statements® Thong
You may know Spanx as a shapewear brand, but don't sleep on their other undergarments OR their leggings. This ultra-breathable thong makes it feel like you're not even wearing anything and comes in tons of neutral shades or fun patterns, depending on your mood.
Looking for a hard-to-find bra size? Go to Cuup's website rn. The brand also has panties that have an amazing fit, like the bikini ones pictured here. The cheeky style cuts low in the front and high in the back for a sexy fit.
Nubian Skin
Naked Classic Brief
Smooth and seamless, Nubian Skin is a new favorite we're a little obsessed with. The silky material is like a second skin, and the raw-cut edges mean you won't ever deal with those annoying panty lines. Plus, the skin-tone matching shades add even more invisibility.
From watches to furniture, you can find it all under the Calvin Klein label. But the logo-trimmed undergarments might be one of the brand's most famous creations. If you want a '90s look (or if you want to channel Kendall Jenner), grab a few pairs. They're not just for Instagram selfies. They're actually SO soft.
Allbirds
Women's Trino Shortie
Did you think Allbirds only made sneakers? Turns out they make some awfully comfy underwear, too, and the Trino Shortie is an easy favorite. These wick moisture, minimize odor, and are made from entirely renewable materials. Win-win-win.
Everlane
The High-Rise Hipster—Heather Grey
Everlane's a go-to for all our sustainable fashion needs, including underwear. If you haven't tried these "soft as your favorite T-shirt" panties, you're missing out. That Supima cotton feels like a fluffy cloud for your tush.
POKARLA
Soft Cotton Briefs Underwear
Pokarla is an Amazon fan-favorite and has glowing reviews across all their intimates products. But it seems like their soft cotton briefs reign over all of them. Their gentle, wide elastic banded underwear has a 4.5-star rating with more than 25,000 reviews, so, you pretty much have to try out this beloved pair.
Boody
Full Brief Seamless Underwear
Boody, boody, boody, boody rockin' everywhere! (Sorry. Had to.) Their celeb-loved bra is a hit, which means that the underwear is probs just as stellar, too. With a 4.5-star rating and over 1,000 reviews, this bamboo viscose underwear is for sure one you need in your closet.
Victoria's Secret
Stretch Cotton Bikini Panty
You definitely already know this brand, and it's certainly endured its fair share of controversy in recent years, which has led to its latest rebranding efforts. The VS Angels have been swapped for a new "VS Collective" that aims to be more inclusive and empowering with a new set of messaging and ambassadors. VS' core collection of underwear, from bikini styles to briefs and thongs, has remained the same, and the brand still offers a bundle of five pairs of panties you can mix and match for $32.
Lululemon
InvisiWear Mid-Rise Thong Underwear 5 Pack
There's nothing worse than working out and either (a) your underwear rides up when you're all sweaty, or (b) your underwear is clearly visible through your leggings. Enter Lululemon's InvisiWear line: Not only is it incredibly comfy when working out (no wedgies here!), but they are extremely high QUALITY.
Bali
Passion for Comfort Hi-Cut Panty
Bali's gotchu with alllll the smooth and well–fitting undergarments. Their seamless, high-cut panties, specifically, will keep everything flat under your clothes. And because of the unique waistband, you won't have to worry about them riding up or pinching you in any way.
Fleur du Mal
Lily Floral Lace Thong
Fleur du Mal is the queen of making fancy lingerie that doesn't feel uncomfortable. Go for these floral-embroidered undies, and you'll be all set for a night out. The mesh fabric is breathable and cozy enough to wear when you don't have plans on the calendar.
Natori
Bliss Cotton Girl Briefs
Natori makes ready-to-wear, home decor, and accessories. But the undergarments are the hero pieces, like these pretty briefs. The stretchy (not loose) fabric will feel like heaven on your bootay. Not to mention, reviewers say that sizing is spot on.
Chantelle
Soft Stretch High Waist Seamless Briefs
Everything that the French lingerie brand Chantelle creates is…how you say…très chic, including this no-fuss option. It's a boyshort and brief hybrid, giving you the perfect amount of coverage. And the material really hugs your body for an "I'm not wearing anything" feel.
Yummie
Ultralight Seamless Shapewear Thong Panties
When you want an extra hug around your waist, Yummie products always come in clutch. This high-waisted brief looks pretty norms, but there's a hidden contouring band that's not too tight.
Neiwai
Barely Zero® Your-Size-Is-The-Size Mid Waist Brief
For the ultimate comfy undie, grab a pair of Neiwai's Barely Zero panty. It's made with the brand's original CloudFit fabric blend, meaning it's probably the softest thing you've ever worn.
Liberté
Crochet Lace Simple Thong
Go for Liberté if you want to treat yourself to a luxe design. Made from the *finest* Italian fabrics, you might never want to wear another brand again—especially when you get a hold of this sultry semi-sheer, scalloped thong.
Hi, how can I find the best underwear brand for me?
Look for variety
Dr. Palep says the best underwear brands offer a variety of styles, with a range of fabrics and sizing to ensure a proper fit. When it comes to underwear, materials matter most, so make sure you find a brand that offers high-quality construction and fabric.
Consider their purpose
"A great underwear brand will also offer a variety of styles so you can pick what works best at any given moment—either to suit your mood or your outfit or both," Dr. Palep says. For example, if you're working out, look for brands that carry microfiber and synthetic materials. "They'll move with you and also wick away moisture for comfort." For everyday use, Dr. Palep recommends soft and breathable, like cotton or lace.
Here's how we chose these undies brands.
We wouldn't recommend just anything, so don't worry. We searched the internet to find both the hidden gems and the cult favorites to bring you only the very best underwear brands. We also reached out to an expert for some professional panty advice, and, of course, we included plenty of our personal faves. From sexy lingerie brands to those with the comfiest undies, we've first tried them so you can buy them without any worries (or returns).
Cosmo's team of digital fashion experts—which includes Fashion Features Director Rachel Torgerson, Fashion Editor Tarah-Lynn Saint-Elien, and Contributing Fashion Editor Maggie Griswold—have decades of combined experience in the industry. They're constantly researching retailers, testing brands, and forecasting trends to bring you the best clothing and accessory pieces for every season as well as high-quality wardrobe staples, like the best underwear. All of our shopping articles adhere to the 15 Percent Pledge and include products for all sizes.
This content is created and maintained by a third party, and imported onto this page to help users provide their email addresses. You may be able to find more information about this and similar content at piano.io
Advertisement – Continue Reading Below
Source link