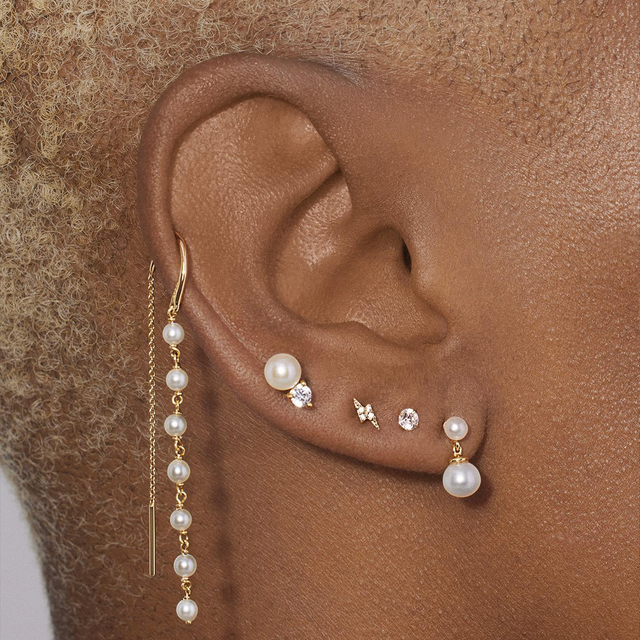 @heyrowan | @newyorkadorned
I'm vowing that 2023 is the year I finally embrace the beauty and fashion trends I've been afraid to try. Exs: I ordered a pair of flared leggings (which real ones call yoga pants), I cut myself some baby bangs, and I made an appointment to finally bring all my piercing ideas to life. My IG folder is filled with curated-ear inspo (we're talking lobes, helix, industrial, daith, tragus, and more), and I'm finally open to making it happen—and also helping you achieve your ear-piercing goals, too.
So if you're on my same level of hype rn, good news: I compiled my favorite piercing ideas below, then asked expert piercer Matt Mayfield for all the details on what piercings are the most popular, and chatted with registered nurse (and professional piercer!) Samantha Alvarado about how to take care of 'em after the fact. Keep scrolling for the full list:
---
✔️ P.S., This is new, up-to-date info, bb. We updated this article in January 2023 to add trendy piercing ideas, delete outdated oldies, and check in with new experts for the latest in piercings, just for you.
---
Advertisement – Continue Reading Below
Can you get multiple piercings in one day?
Yes, you could get multiple piercings in one day, depending on your pain tolerance. But for safety, most piercers won't do more than three in one day, and instead recommend waiting four to six weeks between piercings to give your body time to heal and not over-traumatize your skin. Talk through what you're looking for with your piercer when you make your appointment to gauge if you can do multiple in one day or if you need to space out your appointments.
What piercings heal the fastest?
Lobe piercings generally heal the fastest, says piercer Samantha Alvarado. Meanwhile, "Any piercing in the cartilage will take more time and commitment in terms of the healing process," she says, which brings us to…
What is the best aftercare for piercings?
After you get a piercing, you should spritz the area with a saline solution twice a day for two weeks, then once a day for another two weeks while it's healing. Refrain from touching your piercing as much as possible and "disinfect anything—like headphones or other earrings—that goes in, on, or around your ears at least once a day to prevent introducing bacteria to the site of your healing piercings," says Alvarado.
FYI, though: If your piercing gets inflamed, swells, or has a pus-like discharge, call your doctor asap, because you could be experiencing an infection or allergic reaction. But as long as you're following the protocol above, you should heal like a champ in four to six weeks.
Samantha Alvarado is a piercer, registered nurse, and the director of nursing and education at Rowan studio, which has piercing studios all across the U.S. Her main focus is curated ear piercings.
Matt Mayfield is a piercer at New York Adorned. He has experience in all types of piercings, including ears, nose, belly button, and microdermal implants.
Why trust 'Cosmopolitan'?
Beth Gillette is the beauty editor at Cosmopolitan with four years of experience researching, writing, and editing beauty stories that range from tattoo-removal cream to getting a tattoo while pregnant. She's an authority in all skincare categories, but is an expert when it comes to piercing ideas after researching legit every single piercing out there before curating her own ear stack.
Ruby Buddemeyer was the beauty editor at Cosmopolitan for nearly three years, and has five years of experience writing about beauty, fashion, and celebrity news across print and digital, including tattoo lotions and couples tattoos. Her piercing ideas were selected based on upcoming trends and info from experts.
Advertisement – Continue Reading Below
Source link