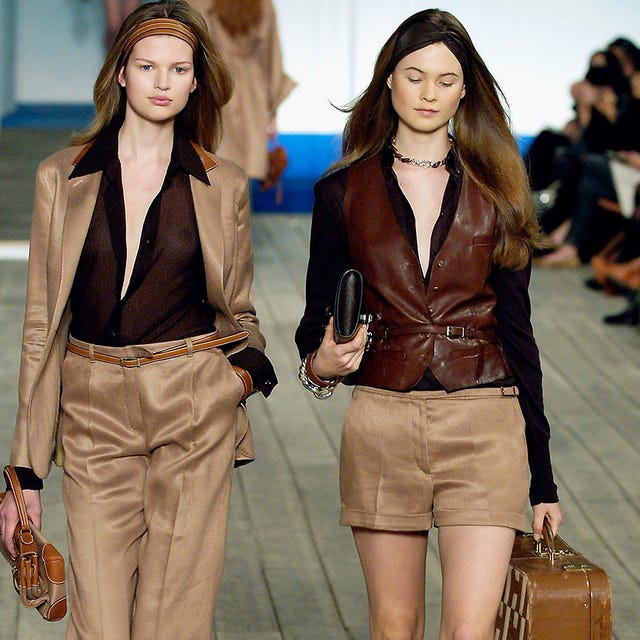 Getty Images
The weekender bag is a very personal decision. Are you more form or function? Do you have a go to or prefer to play the field? Duffel or roller? Only you know your heart's desire when it comes to the choice of overhead-appropriate bag. Mandi Meng, the Area Director of Marketing Communications for Auberge Resorts Collections clocks many hours on planes in her role, often for short jaunts, so the weekender comes into play often. "As someone who travels extensively and also has a chronic overpacking issue, my go-to weekender may not be the most fashionable, but it is definitely the most functional of the many (and I do mean MANY) options I have tried," Meng tells BAZAAR.com. "The Taurus in me really wanted to love the luxe travel bags, but at the end of the day, my trusty Briggs & Riley is the winner. The secret sauce is the super simple and foolproof compression system which allows me to fit way more of my 'essentials' in a compact space that always fits in the overhead."
But it's not all about function, Meng balances a utility-based bag with high end carry-ons. "I do love to add a bit of luxury to my travel look (and maximize every spare inch of potential storage space), so I always have an oversized tote balanced atop my carry-on. My current favorites are my Louis Vuitton On the Go GM, or a classic Chanel Deauville tote."
And for those who are really all in on the luxe vibe, there are certainly many options—and maisons—who can facilitate that celebrity-level entrance to the Delta Suite. Sara Banks, founder of SteamLine Luggage, built her brand on the idea that travelers want that something extra for a short—or long—getaway. "Rolling luggage brings elegance back to modern travel, even for just a weekend," she tells BAZAAR.com. "It elevates your entire look, leaving you looking chic and polished even after a long day of travel." Peruse 20 options to find your perfect weekend mate.
Advertisement – Continue Reading Below
Longchamp Boxford XL Travel Bag in Brown at Nordstrom
Show up to every Upstate weekend getaway in classic equestrian style.
Le Monogramme canvas duffle bag
If you are into personalizing your accessories, this Paravel bag is perfect for your next weekend away.
This canvas bag is anything but basic.
When in doubt add an iconic Gucci stripe.
extra large Ottomar weekender duffle bag
We love the cross body strap for comfort on this MCM bag.
For someone who prefers a rolling bag: The Jaunt is just the thing. Bonus feature: It's customizable.
This weave has stood the test of time because it's that good.
The ReNew Transit Weekender – Warm Quartz
This neutral shade will stand out amid a sea of all-black luggage.
We'd half expect you to take the nearest luxury boat on your next weekend getaway.
Perriand City braided-handle leather weekend bag
Planning a getaway this fall? Upgrade your weekender to this luxe leather bag.
This timeless weekender has thoughtful design details. The bag includes an umbrella loop, front pockets for easy access to your travel tickets, and an adjustable shoulder strap.
Antigona Lock Soft Leather Duffel Bag
You could pair this with sweatpants at the airport and still look like a million bucks.
For the sleek and sporty at heart.
This super simple bag gets the job done and looks sleek and cool.
This Dior X Rimowa collaboration is as chic as it will be practical and timeless. This is the one luxe travel accessory for your next trip.
pre-owned Keepall 55 travel bag
You can't go wrong with this classic Louis Vuitton duffel bag. Timeless and chic, it's perfect for the stylish jet-setter.
Keep it simple with this Cuyana weekender canvas bag that's both lightweight and practical. Bonus: Any of the bag's color palettes will go perfectly with your entire wardrobe.
Bric's travel bags are always great classic options. This choice is spacious and water resistant.
2003 pre-owned Haut à Courroies weekend bag
Serving all the Victoria Beckham at the airport vibes. This one is to pass down to the next generations.
This content is created and maintained by a third party, and imported onto this page to help users provide their email addresses. You may be able to find more information about this and similar content at piano.io
Advertisement – Continue Reading Below
Source link