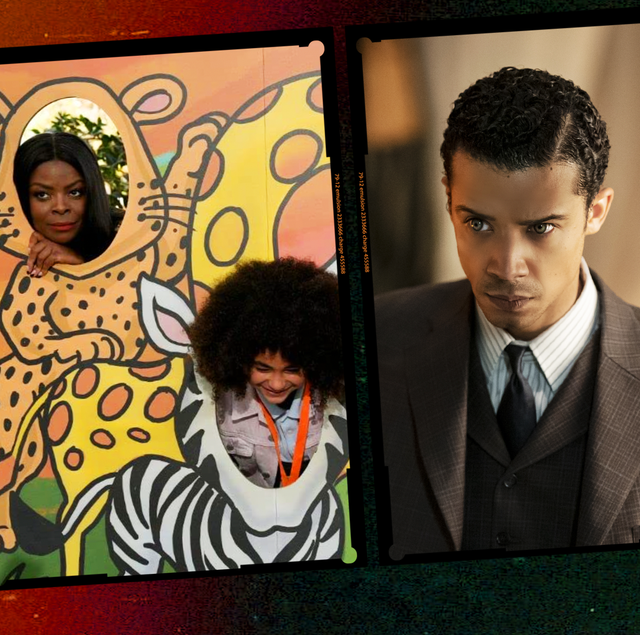 Courtesy of Studios/Margie Rischiotto
You don't have to be a big television fan to know that the fall season means tons of delicious new TV to watch. While we may have a few weeks left until the autumn season is here, there are dozens of new and returning projects to look forward to thanks to streaming, network, and cable's packed schedules.
And let's be honest: Some of the very best titles are saved for the fall. What TV shows should you absolutely hit play on? We made our top picks and trust us, you're not going to want to miss them. Here are the 20 best fall TV shows coming out this year, curated just for you.
Monarch
This brand-new series is finally making its debut after being delayed. The Nashville-meets-Empire premise introduces a new TV family who is willing to do anything possible to stay on top. When the family's matriarch and biggest country star decides to retire, the Roman siblings go head-to-head to figure out who will take her place in country music history as the new leader.
Premieres September 11 on FOX
Mythic Quest Season 3
This Apple TV+ comedy is one of the streamer's biggest hidden gems. Follow the creators of the video game Mythic Quest as they continue to try to make the best game possible. But as with any workplace comedy, things don't go as expected, especially when two of the game's biggest creators leave to work on their own project.
Returns fall 2022 on AppleTV+
Interview With the Vampire
It has been almost 30 years since the iconic film adaptation starring Tom Cruise and Brad Pitt was released. Now Anne Rice's novel is coming to life yet again, this time with a TV series featuring Sam Reid as Lestat and Jacob Anderson as Louis. Based on what we've seen so far, you'll certainly be thirsty for more.
Premieres October 2 on AMC
Ghosts Season 2
The American adaptation of the iconic British series has become its own hit across the pond. With a bed and breakfast ready to open, the ghosts will have to deal with brand new guests walking around the property while also trying to live their best afterlives.
Returns September 29 on CBS
American Gigolo
We all need more Jon Bernthal in our lives, and it looks like he finally found the role of a lifetime with the upcoming release of American Gigolo. After being wrongfully imprisoned for 15 years over a murder he didn't commit, this former gigolo has to come to terms with his newfound freedom as he struggles with his past and his future.
Premieres September 9 on Showtime
Chucky Season 2
You don't have to be a fan of the original movie franchise to enjoy the horror and camp of this series that features everyone's favorite killer doll. Just when the residents of Hackensack, New Jersey thought he was gone forever, Chucky is back and deadlier than ever.
Returns October 5 on Syfy and USA
Los Espookys Season 2
Imagine if your job was doing whatever you can to try and scare people. It might even sound like a dream job, and no one does it better than Los Espookys. The funny group of friends is back for another season to make new characters scream in the best way possible.
Returns September 16 on HBO
Cyberpunk: Edgerunners
Cyberpunk 2077 made headlines when the video game was released back in 2020, but fans still can't get enough of Night City. Thanks to Studio Trigger (which also gave us Kill la Kill), there's a new story in the iconic metropolis that features the wild spectacle fans expect from a Cyberpunk title.
Premieres September 2022 on Netflix
Abbott Elementary Season 2
Unless you've been living under a rock, you already know that Abbott Elementary is one of the best shows on TV right now. And with a special supersized 22-episode renewal for its second season, there's plenty more to come thanks to the one and only Quinta Brunson.
Returns September 21 on ABC
Home Economics Season 3
Now coming back for its third season, Home Economics has officially gained veteran status in the list of long comedies that are changing the game. With Tom's book now set to be published thanks to Connor's new publishing company deal, there's bound to be tension in the Hayworth family.
Returns September 21 on ABC
Atlanta Season 4
The final season of Atlanta is here, and it's definitely bittersweet. After a season that took our favorite rapper and his crew overseas, Paper Boi, Earn, Darius, and Van return to the ATL for one last ride.
Returns September 2022 on FX
Masterpiece: Magpie Murders
PBS's Masterpiece continues to give fans some of the best British dramas ever, and new title Magpie Murders is no exception. When a book editor discovers the last novel of a mystery writer ends without a final chapter, she sets out to find the missing pages and also learn more about the late author's strange death.
Premieres October 16 on PBS
The Serpent Queen
Catherine de' Medici is finally getting time to shine in this series which puts the ruthless former Queen of France at the forefront. Known as one of the most powerful figures in French history, the Queen gives fans plenty to talk about.
Premieres September 11 on Starz
Race For The Championship
After seeing the success Drive to Survive had on Formula 1, NASCAR is getting its own docuseries that will follow its drivers as they try to avoid crashes and bring home a trophy.
Premieres September 1 on USA
Epic Adventures With Bertie Gregory
National Geographic filmmaker Bertie Gregory is taking us all over the world in this new series where he gets up close with amazing wildlife. While this might seem like just another documentary, Bertie shows fans the real stakes involved in getting the perfect shot with a bit of humor and heart.
Premieres September 8 on Disney+
Vampire Academy
Julie Plec, who created The Vampire Diaries, is back with another great vampire show that'll make you want to sink your teeth back into the genre. And yes, this is another adaptation of the YA series. But with a longer runtime and the "Queen of Vampires" behind it, we have more hope for this one.
Premieres September 15 on Peacock
Welcome to Flatch Season 2
Just when you thought you've seen all the small-town shows available, there's Welcome to Flatch. With amazing characters and some of the most hilarious lines you'll hear on TV, this show's second season is super deserved, and you'll want to tune in.
Returns September 29 on FOX
Reginald the Vampire
Spider-Man star Jacob Batalon stars as an unlikely vampire who has to continue to deal with high school life and a normal job while also coming to terms with his newfound double life.
Premieres October 5 on Syfy
The Midnight Club
The Haunting of Hill House creator Mike Flanagan is back to scare us with a series about seven young adults with terminal illnesses who have to deal with strange occurrences after one of them dies.
Premieres October 7 on Netflix
Fate: The Winx Saga Season 2
Welcome back to Alfea for another school year. Things have changed with a brand-new regime leading the charge. But with Bloom and her roommates knowing the truth behind everything, they're going to do what it takes to protect their lives.
Returns September 16 on Netflix
Tamara Fuentes
Associate Entertainment Editor
Tamara Fuentes is the current Associate Entertainment Editor at Cosmopolitan, where she covers TV, movies, books, celebrities, and more.
This content is created and maintained by a third party, and imported onto this page to help users provide their email addresses. You may be able to find more information about this and similar content at piano.io
Source link