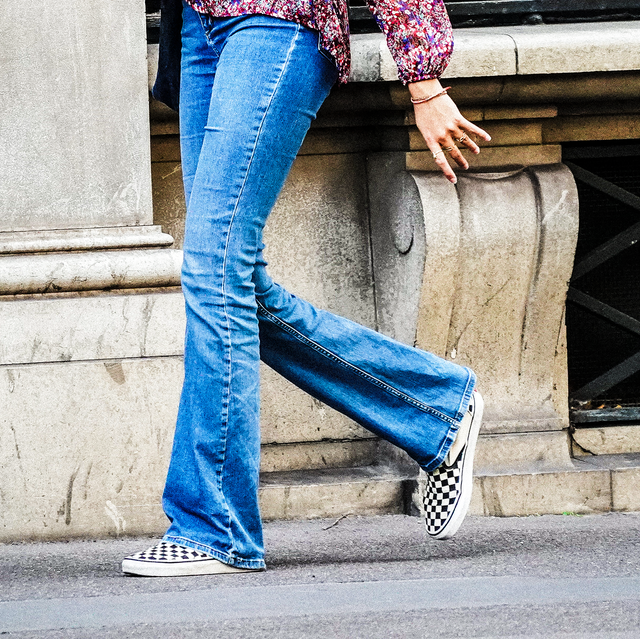 Getty
Shoes are an important part of the fashion equation because they can turn any outfit into a lewk. And when you usually think of shoes that'll elevate your 'fit, super hot pumps, lace-up boots, and strappy sandals may come to mind. But let me tell ya, those heels, ties, and buckles could really slow you down. Thankfully, the fashion gods have solved this dilemma for you us with slip-on sneakers.
With them, laces are the least of your worries (a mere decorative detail that may not actually be necessary for some styles). Plus, you'll never have a problem sliding them on and off when going through airport security. #Priorities, guys. So if you don't already have a pair, we gotta change that ASAP.
Our top picks for the best slip-on sneakers for 2022:
---
There are plenty of cute, comfy designs out there that won't make your outfit look rushed if that's something you're worried about. Lucky for you, I've gathered up some of the best slip-on sneakers that'll have ya adding them to your everyday rotation. From backless designs to chunky platform styles, you'll find an assortment of fashionable slip-on sneaks below. Remember: Comfy can be chic, too!
Advertisement – Continue Reading Below
if you're in your coastal grandma phase
Mexico 66 Slip-On
That glam wide-brimmed hat and woven straw beach tote deserve some matching kicks! This chic neutral style will pair perfectly with an airy linen dress and some chilled vino (beach house optional).
if you want the LBD of slip-on sneaks
Warren Slip-On Platform Suede Sneakers
Minimalist, elevated basics is sort of Vince's thing, and this bestselling suede slip-on is the perf example of that. We like the comfy details, like a platform for extra cushioning plus padding on the back of the heel to prevent blisters and chafing.
if you're looking for something white
Superstar Slip-on Shoes
Go for the effortlessly chic look with these sleek sneakers. Whatever you're wearing—whether it be leggings or perhaps a mini skirt—trust these bbs to have ya looking fresh and feeling cozy.
if you're a fan of converse
Chuck Taylor All Star Slip
Hello to this iconic Chuck Taylor sneaker you don't have to lace up.
if it has to be eco-friendly
Ibi Slip On Leopard Print Knit
These bamboo-made shoes from Cariuma aren't only amazing for the planet, but they'll also look so fab on your feet. (BTW: The neutral leopard pattern is a perf way to spunk up a get-up without being too bold.)
if you're all about stripes
The Sneaker in Riviera Pinstripe
IDK what's better: The fact that these striped tennies have a near five-star rating with almost 11,000 glowing reviews or that they're knit from plastic bottles. So! Good!
if you want some added height
Alpargata Boardwalk Slip On
Trust me on this: A platform slip-on is the perfect shoe if you want something that's comfy and gives you a bit of a boost height-wise.
If you love a classic look
Mule Sneakers
This celeb-approved brand has a pair of gorge backless sneaks that are timeless and perfect for all of the I-don't-got-the-time people.
if you want to add flair to your 'fit
Checkerboard Slip-On
Hit up Vans for a classic slip-on with a touch of ~edge~. Their famous sneakers are iconic for their print, comfortable silhouette, and easy wearability.
if you're not really a sneaker person
Mika Platform Sneaker
For my peeps who can't fully commit to the casual tennis shoe life: I give you… a sneaker that legit looks exactly like a bootie. No one will ever know!
if you want a really comfy sneak
Ivy Low Lace Mule
If a fancy shoe and a slipper had a baby, it'd be these Italian leather slip-ons from The Frye Company.
if you get your shoes dirty often
Washable Double Decker Camo
There'll be no permanent spillage or smudge damage with these camo Keds! You can easily (and safely) throw 'em in the washer if they need some spiffing up.
if you'd like an elevated design
The Cerchio
You'll instantly snatch these gorge woven sneakers after reading the reviews on them. This one, in particular, will really sell ya though: "It fits perfectly and I could wear it every day if I needed to… It's that comfortable!! I think I've bought it in every color available!"
if you've got a relaxed style
Slip Nike Court Legacy
Opt for these Nikes if you're trying to find something more on the laid-back side. You can easily slide these bad boys on and know that its ivory colorway will go with any outfit.
if you're on the hunt for a running shoe
TechLoom Bliss
Going for a more Sporty Spice vibe? Shop APL and get yourself these radiant bbs. They're the brand's lightest shoe (!!) and they feature a satin elastic strap that gives a fun, yet elegant pop.
if want a look that'll pop
The Swift
Bring some shine to le 'fit with a pair of leather metallic slip-ons from Birdies.
This content is created and maintained by a third party, and imported onto this page to help users provide their email addresses. You may be able to find more information about this and similar content at piano.io
Advertisement – Continue Reading Below
Source link