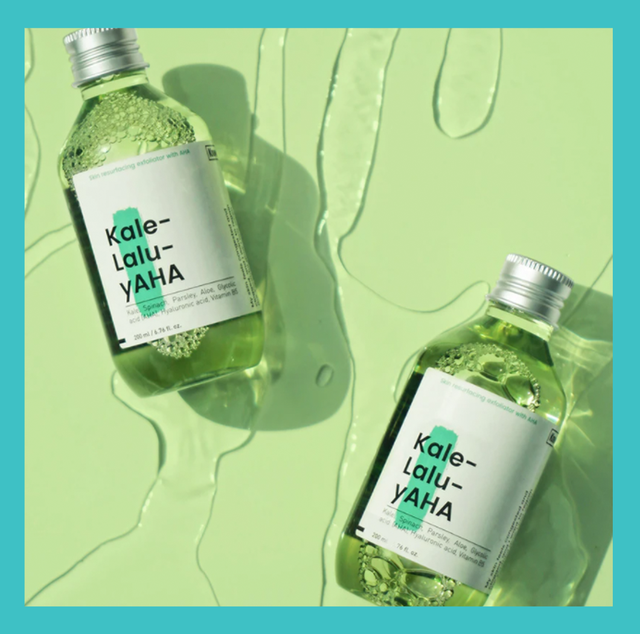 Courtesy
Korean skincare brands have taken the global beauty market by storm, and after just a few weeks of product sampling, the reason behind everyone's curiosity becomes clear.
Korean beauty, or K-beauty as it's often called, brands "are leaders in innovation," explains Hana Jeon, M.D., a New York City dermatologist and clinical assistant professor of dermatology at Weill Cornell. Korean beauty brands and products tend to opt for gentle-but-effective ingredients, accessible price points, and aesthetically pleasing packaging, which "makes the [skincare] space much more interesting," adds Dr. Jeon. After all, who can say no to a sheet mask that is fun and comfortable to apply, leaves you and your skin feeling post-spa rejuvenated, and costs just a few dollars?
"The focus for Korean skincare products is on skin first, makeup second," notes Marie Jhin M.D., board-certified dermatologist and author of K-Beauty Secrets. "The goal is to focus on the skin and make it look natural, flawless. Many of the ingredients used are to prioritize healthy appearing, dewy, moisturized skin."
While there are a virtually unending number of fantastic brands that are worth a closer look—especially depending on the sensitivity of your skin and your own unique skincare needs—we've found a few standout options that consistently deliver products that really help take your skin to the next level.
From retailers like Soko Glam, an online bazaar for all-things K-beauty, to cult-favorite brands like COSRX, Peach & Lily, and Laneige, there's no shortage of companies looking to help you achieve your best skin yet. Whether you're looking for a calming serum, a daytime moisturizer, or an everyday toner, we've rounded up the best Korean skincare brands and products that deserve a spot in your routine.
How we chose the best Korean skincare products
We consulted Dr. Jeon, Dr. Jhin, and Brendan Camp, M.D., a board-certified dermatologist with MDCS Dermatology in New York, as well as conducted our own research and product testing, and sifted through ​​hundreds of online reviews to find the best Korean skincare products available.
Our top picks
Advertisement – Continue Reading Below
1
BEST EVERYDAY GEL CREAM
True Cream Aqua Bomb
Dr. Jeon recommends this moisturizer for it's anti-inflammatory properties thanks to superstar ingredient comfrey leaf. Belif's products combine modern skincare science with 19th-century herbal apothecary techniques from Korea. The result? Products that are full of thoughtfully chosen ingredients with an effective formula, unique textures that feel lightweight and calming. The brand's True Cream Aqua Bomb is a big favorite, thanks to its gel-like texture and nourishing ingredients.
2
BEST EXFOLIATING TONER
AHA BHA PHA 30 Days Miracle Toner
Some By Mi is a Seoul-headquartered brand, which is best known for its hydroxy acid-powered toner—boasting 'miracle' in the name for a reason. The exfoliating acids get to work smoothing rough skin and unclogging pores, while 2% niacinamide calms any angry patches.
3
Best Hydrating Toner
Full Fit Propolis Synergy Toner
Dr. Jhin recommends this hydrating toner for its inclusion of nourishing propolis, a key ingredient in Korean skincare products. Propolis is full of antioxidants and also helps to hydrate the skin, which facilitates a soothing, reparative, and moisturizing toner. Plus it's great for sensitive skin and is formulated with honey extracts and panthenol to boost hydration.
4
BEST PIMPLE PATCHES
Acne Pimple Master Patch
These pimple patches are a great choice for their breakout-busting power. The patches come in circles of three different sizes and are made of hydrocolloid which forms a barrier to protect acne from bacteria (and picking!), promotes healing, and helps to draw out fluid, pus, and oil. Dr. Jeon recommends hydrocolloid patches to her patients to create a barrier between the pimple and the environment.
5
BEST ANTI-AGING SERUM
Glass Skin Refining Serum
Unsurprisingly, peaches are a powerhouse ingredient in Peach & Lily's products, thanks to the many vitamins and minerals found in the delicious stone fruit. A fan favorite is the Glass Skin Refining Serum that is designed to help you achieve, you guessed it, skin that is smooth as glass as it calms, brightens, and firms the complexion. "This lightweight serum contains peptides to encourage collagen production, hyaluronic acid to seal in moisture, and calming niacinamide that helps address acne and rosacea," says Dr. Camp.
6
BEST MASK
Watermelon Glow Sleeping Mask
Glow Recipe says it best on its site: "Unexpected sensorial textures, colorful packaging, and innovative ingredients are our thing." The woman-owned brand creates skincare that's rich in fruit ingredients to unleash your inner glow. Try the best-selling Watermelon Glow Sleeping Mask, which is packed with anti-inflammatory watermelon extract and skin-plumping hyaluronic acid.
7
BEST GENTLE TONER
Yuza Hydrating Liquid Lotion
Erborian aims to provide "unique and easy to use products that promise to always put you and your skin first," like their super gentle and effective toner that helps to nourish and smooth the skin while revealing an inner radiance. "This lotion toner delivers antioxidants derived from the yuza fruit and hydrates skin at the same time," explains Dr. Camp.
8
BEST EYE CREAM
Advanced Snail Peptide Eye Cream
COSRX is a beloved K-beauty skincare brand geared toward alleviating irritated skin. If you're looking for an innovative eye cream, the brand's cult-favorite Advanced Snail Peptide Eye Cream is not only super lightweight but also helps to brighten and reduce the appearance of dark circles.
9
BEST EVERYDAY CLEANSER
Power Calm Hydrating Gel Cleanser
This cleanser is well-loved for its inflammation and redness reducing abilities. With a gel-to-foam consistency it cleanses the skin without harsh ingredients to avoid creating dryness and irritation. Formulated with botanical extracts including peach, chamomile, camellia, and cucumber, this cleanser boasts antioxidant protection and serious hydration in addition to its deep, yet gentle cleansing power.
10
Best Firming Serum
Concentrated Ginseng Renewing Serum
Ginseng, found in Eastern Asian medicine, has anti-aging and moisturizing benefits, and "is a unique ingredient that is used in Korean skincare products," explains Dr. Jeon. Sulwhasoo is a large, well-established brand that is extremely popular in Korea and has implemented the benefits of ginseng into many of their products.
11
Best Soothing Cream
Laser Rejuvenation Cream
This cream is a favorite of Dr. Jeon for its repartive and moisturizing powers. The cream is formulated with five different peptides and a variety of vitamins, and "was initially made for post procedure purposes," but helps with a variety of different skin concerns as well.
12
BEST SUNSCREEN
I'm Pure Cica Suncream SPF 50
For all things sun-related, Suntique is a great option. The brand offers a variety of higher-SPF products that don't look or feel chalky, including this Pure Cica Suncream, which helps to moisturize, protect, and tone-correct all at once. For something truly unique, check out the brand's treatment dedicated to sun protection for your hair.
13
BEST SHEET MASK
Revitalizing Sheet Masks
For sheet masks that are inexpensive but highly effective, check out this diverse lineup from LAPCOS. They have lip, eye, and full-face masks that contain a variety of active ingredients to serve whatever skincare woe you want to address, from soothing honey to oil-controlling charcoal. Plus, they come in metallic, shiny packaging for an overall luxe experience.
14
BEST MAKEUP REMOVER
Living Cleansing Balm
This creamy formula removes makeup and hydrates your skin all in one go, thanks to the addition of nourishing vitamin E and sea buckthorn oil. This product is "an innovative approach to cleansing," notes Dr. Camp. "[it] melts into an oil after being massaged into skin to help remove oil and make up and rinses off to leave skin feeling refreshed and bright."
15
Best Essence
Time Revolution The First Treatment Essence
Recommended by Dr. Jhin, this essence contains powerful and effective ingredients for hydrating the skin. It claims to improve skin tone, texture, and hydration with the aid of niacinamide and fermented cica.
16
BEST KIT
10-Step Korean Skin Care Routine Set
If you're looking for a deep dive into K-beauty skincare, this set is for you. This kit contains 10 products for every step of a K-beauty routine, valued at over $240! You'll find full-size products from well-loved brands like Hanskin, Acwell, Benton, and more. Try out every product from oil and water cleansers to sheet masks to sunscreen, and be on your way to your healthiest skin ever.
This content is created and maintained by a third party, and imported onto this page to help users provide their email addresses. You may be able to find more information about this and similar content at piano.io
Advertisement – Continue Reading Below
Source link