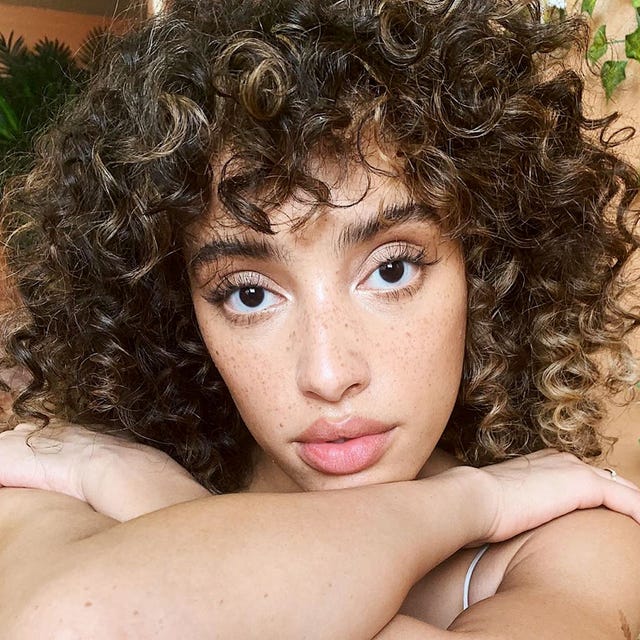 @kathleen_hairInstagram
If your type-4 hair is feeling weak and brittle, chances are you need to introduce a protein treatment into your haircare routine. Why? Because protein treatments are your first line of defense against breakage and split ends, especially when you're working with already-dry hair (hi, 4a, 4b, and 4c). Protein treatments for hair help strengthen your coils by filling in any holes, gaps, and cracks along your damaged cuticle, leaving you with healthier, softer, and more resilient hair over time.
But before you run out and grab the first protein treatment you can find, it's important to understand that (1) all protein treatments are not created equal, and (2) using them incorrectly can actually lead to more damage and breakage. So to save you from a game of trial-and-error, I spoke to two hair experts—hairstylists Debra Gomes and Leigh Hardges—to break down everything you need to know about using a protein treatment on your natural hair, plus the 15 best formulas for every coil and curl type to try right now.
Our top picks for best protein treatment for natural hair of 2023:
Now keep scrolling for the full list of the 15 best protein treatments for natural hair that'll help get your hair back on track.
Advertisement – Continue Reading Below
1
Best Strengthening Protein Treatment for Natural Hair
Verb Reset Repairing Hair Mask
2
Best Protein Treatment for Dry, Damaged Natural Hair
Briogeo Don't Despair, Repair! Deep Conditioning Mask
3
Best Shine-Enhancing Protein Treatment for Natural Hair
Palmer's Coconut Oil Formula Moisture Boost Protein Pack
4
Best Affordable Protein Treatment for Natural Hair
Hask Keratin Protein Smoothing Deep Conditioner Packette
5
Best Pre-Poo Protein Treatment for Natural Hair
Curlsmith Bond Curl Rehab Salve
6
Best Protein Treatment With Biotin and Castor Oil
Tgin Miracle RepaiRx Curl Protein Reconstructor
7
Best Detangling Protein Treatment for Natural Hair
Arvazallia Fortifying Protein Hair Mask
8
Best Lightweight Protein Treatment for Natural Hair
Kiehl's Olive Fruit Oil Deeply Reparative Hair Mask
9
Best Protein Treatment Natural Hair That's Color-Treated
Aphogee Two-step Treatment Protein for Damaged Hair
10
Best Protein Treatment for Frizz and Flyaways
Mielle Organics Babassu Oil Mint Deep Conditioner
11
Best Protein Treatment for 4C Hair
SheaMoisture Jamaican Black Castor Oil Masque
12
Best Cruelty-Free Protein Treatment for Natural Hair
Giovanni Nutrafix Hair Reconstructor
13
Best Protein Treatment for Type 3 Curls
Creme of Nature Argan Oil Intensive Conditioning Treatment
14
Best Scalp-Friendly Protein Treatment
Tropic Isle Living Jamaican Black Castor Oil Protein Conditioner
15
Best Budget Protein Treatment for Natural Hair
Ors Olive Oil Strengthen & Nourish Replenishing Conditioner
What does a protein treatment do for natural hair?
Think of a protein treatments as intensive hair therapy—they're filled with hydrating and strengthening ingredients (like hydrolyzed proteins, amino acids, and natural oils) that help temporarily fill in the cracks and gaps in your damaged hair cuticle so it's stronger and more resilient. With continued use, protein treatments can make hair become stronger and less vulnerable to splitting and snapping.
How can I tell my hair needs protein?
If you're using moisturizing masks left and right to no avail, it's time to up the ante. Hardges describes the feeling of hair that needs protein as "mushy when wet." Additionally, if your hair easily snaps during combing and detangling, it may be time to introduce a protein treatment to your routine.
How often should I use a protein treatment?
"No more than once a month," says Hardges. This is because too much protein can actually have the opposite effect on your hair. When protein starts to build up on the hair, it won't allow for moisturizing and nourishing ingredients to penetrate the hair shaft; this can lead to dryness, brittleness and breakage.
What's the difference between a protein and keratin treatment?
While keratin is a type of protein, a keratin treatment is one that's offered in-salon and is more intense than the protein treatments that you use at home. Keratin treatments are meant to smooth the hair in a way that changes the texture, which cannot be done at home.
The in-salon keratin formulas also have much more than just protein in them and those chemicals are the ones that are responsible for the change in hair texture. You can find at-home keratin treatments (there's one on this list, in fact), but they perform in the same way as the other at-home protein treatments, which just help to repair damage and strengthen strands.
How to choose a protein treatment for natural hair:
Hone in on your hair type
Some formulas will be way too heavy or way too light for certain hair types. For instance, 4A and up curls will need thicker, more moisturizing formulas while those on with more fine and wavy hair will want something lighter that won't weigh hair down.
Pick your protein properly
Hardges recommends plant proteins for at-home use. In addition to plant protein, opt for a formula that also contains moisturizing agents, like oils and butters, too. Proteins and moisture go hand in hand, says Gomes, so you really want something that's going to offer that two-pronged approach.
Remember, high price doesn't equal high quality
There are plenty of A+ protein treatments out there (many of them listed above) that come at price point that doesn't break the bank. Sometimes the simplest, least complicated formula is the one that your hair needs. So, don't be fooled by the idea that more expensive is better, because that's not always the case.
Lisa DeSantis is a freelance writer who has been in the beauty industry for nearly ten years. She began her career in beauty and fashion at QVC and has since written for and contributed to top women's magazines and digital brands such as Health, Real Simple, Cosmopolitan, Motherly, Byrdie and more. She has tested thousands of products and considers herself a professional guinea pig who's always on the search for the next big trends in beauty, wellness, and beyond.
Advertisement – Continue Reading Below
Source link