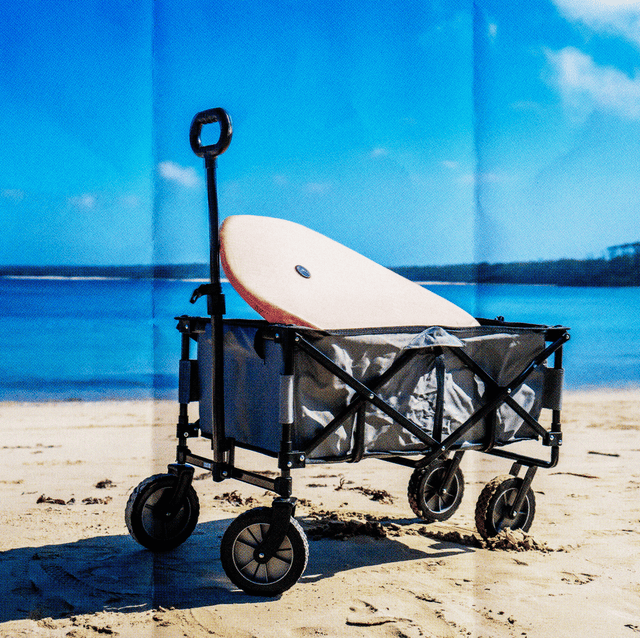 Getty Images
Who among us doesn't love a good beach day? Whether you like to lay in the sun with a good book, splash around in the waves, or let your competitive side out with a round of beach volleyball, everyone can find something to enjoy. But the thing about going to the beach is that you usually end up taking *a lot* of stuff with you. I mean, you need beach blankets, towels, sunscreen, a cooler full of drinks and snacks, books, beach games…it's a lot! But I've got two words for you to make your summer infinitely easier: beach wagons.
Seriously, a good beach wagon is a game-changer. You can fit literally everything you want to take for a day out in the sun, no sweat. But if you've never bought a wagon before (tbh, it's not exactly a typical purchase on your Target runs), it can be kind of overwhelming to know where to begin. You want a wagon that's easy to navigate on soft sand because, trust me, that's going to be important. Then, there are beach wagons that can even be converted into chairs or benches once you get there, so you've got a nice place to sit back and relax while you soak up the sun. To help you find the best beach wagon for all your summer adventures, we scoured the internet for the top-rated styles, read countless customer reviews, and put together one easy-to-shop list.
1

Best Affordable Beach Wagon
Collapsible Folding Utility Wagon
Read More
2

Best Beach Wagon That's Also A Chair
2-in-1 Outdoor Beach Cart + Folding Lounge Chair
Read More
3

Best Beach Wagon with Big Wheels
Heavy Duty All Terrain Utility Beach Wagon
Read More
4

Best Compact Beach Wagon
Deluxe Wonder Wheeler
Read More
5

Best Extra-Large Beach Wagon
Collapsible Folding Wagon
Read More
While these wagons are perfect for the beach, many reviewers also note that they're great for carrying groceries, moving boxes, and other heavy items you don't want to carry yourself. Trust me, your back will thank you.
So in preparation for many warm days ahead, keep scrolling for the best beach wagons to shop for summer 2022.
Advertisement – Continue Reading Below
1
Best Affordable Beach Wagon
Collapsible Folding Utility Wagon
Collapsible and Compact
Holds up to 120 lbs
Available in a ton of colors
Harder to Steer On Soft Sand
Want a reliable beach wagon but don't want to drop more than $100? I got you. This collapsible one can hold up to 120 pounds and comes in a variety of colors, from bright beachy vibes to more neutral colors. Several reviewers mention using it for the beach, although some mention that it does much better on packed sand than on soft sand. As long as you're not trekking for miles, you can probably make it work.
2
Best Beach Wagon That's Also A Chair
2-in-1 Outdoor Beach Cart + Folding Lounge Chair
Built-in beach chair!
Easy to pull on sand
Easy to assemble
Not as much storage space as larger wagons
Chair has no cup holder
Um, this is so cool! It's a beach wagon that doubles as a lounge chair, so you can easily transport all your beach day essentials and then kick back and enjoy the sunshine. Reviews confirm that it can make it across the sand without any trouble, and one even called it the "best beach item I've ever bought."
3
Best Beach Wagon with Big Wheels
Heavy Duty All Terrain Utility Beach Wagon
Very easy to pull through sand
Durable
Collapsible
Large wheels take up more space
A lot of utility carts or wagons out there have small tires that may sink into the sand. But this beach wagon has extra-large wheels that make it easier to maneuver across even the softest sand. It can hold up to 150 pounds, so you can totally load it up with a day's worth of snacks, drinks, towels, toys, and whatever else you need for your beach day.
4
Best Compact Beach Wagon
Deluxe Wonder Wheeler
Light to pull, compact to store
Includes shoulder strap, storage pouch, and umbrella holder
Can hold up to 100 lbs and 4 beach chairs
Not as much storage for large families
This compact 'lil beach wagon still has enough space for all the essentials. Plus, it has a few cool features, like a removable tote bag with a shoulder strap, an umbrella holder and 10-inch wheels. It can hold up to 100 pounds of stuff, so you could definitely stick a cooler in there and then pile your towels and other stuff on top.
5
Best Extra-Large Beach Wagon
Collapsible Folding Wagon
Ton of storage space and compartments
Holds up to 220 lbs
Collapsible and easy to assemble
No cover for storage
Not as easy to fold up and store
If you've got a ton of stuff to carry, this is the beach wagon you want. It can hold up to 220 pounds and expands to 35.5″ x 19.5″ x 22." Plus, it has smaller pockets on the side that can hold items like water bottles, books, sunscreen, and more. So really, why not bring your entire life to the beach?
6
Best Beach Wagon for Kids
3-in-1 EZ Fold Wagon
Doubles as transportation and beach seating
Seatbelts for added safety
Folds up easily
DuraClean fabric that's easy to wipe clean
Some reviewers say fabric/zipper broke over time
If you're headed to the beach with the kiddos, this wagon comes in clutch. Up to two (small) kids can ride in it, and the side panel detaches to turn it into a padded bench seat once you're settled at the beach. Plus, the fabric wipes clean so it's easy to get rid of sand and other messes quickly. Because trust, toddlers know how to make a mess.
7
Best Beach Wagon for Soft Sand
Foldable Beach Cart Trolley
Extra large wheels for easy navigation
Rust-free materials
These balloon wheels are 12! inches! Which basically means that they can glide over sand super easily. One reviewer wrote, "no issues with wet sand, deep sand, fine loose sand, it traversed everything with the ease we expected." Another wrote, "If you have ever had a cart that bogs down in the sand…kiss that frustration goodbye. This cart glides through the sand, no matter how much you load on it." Plus, it's made from materials that won't rust, so you don't have to worry if you get it wet.
8
Best Collapsible Beach Wagon
Folding Beach Wagon
Easy to navigate through wet and dry sand
Collapsible for compact storage
Some reviews say it rusted over time
This collapsible beach wagon gets rave reviews on Amazon. One reviewer said the wheels handled both wet and dry sand "like a dream" and another wrote, "It's WAAAAAAAAAAAAY better than those skinny tire wagons." And when you're not using it, it folds up to be just 8 inches wide, perfect if you don't have a ton of storage space.
9
Best Beach Wagon with Extra Storage
Double Decker Folding Wagon
Separate storage compartments with large capacity
Collapsible
Cup holders
This beach wagon has two levels of storage. The top basket is perfect for holding things like beach toys, towels, food and drinks, while the bottom level is basically designed for awkwardly big things like beach umbrellas, canopies, tents, cases of beer, and whatever else you need for an ideal beach day.
10
Best Heavy-Duty Beach Wagon
Steel Garden Cart with Removable Sides
Holds up to 400 lbs
Doubles as bench for beach seating
Easy to navigate through sand
Not collapsible or foldable for storage
This heavy-duty beach wagon can do it all. It holds up to 400 pounds and has 10-inch tires that make it easy to maneuver across the sand. Several reviewers say it's perfect for beach days, in part because you can remove the sides and use it as a bench. Unlike many other beach wagons, this one doesn't fold up when you're done with it, but if you've got the space to store it, this would be a great buy.
11
Best Colorful Tote to Toss in Your Beach Wagon
AAKS Delma Raffia Tote
Of course, you still need a cute tote to toss in your beach wagon so you can keep track of your phone, keys, wallet, magazines, and other essentials. This straw tote from AAKS is so cute and surprisingly roomy for all your personal items.
12
Best Sun Shade to Take in Your Beach Wagon
Sun Shade
Take your beach day to the next level with a sun canopy. This one features a design by artist Janna Morgan, and will keep you and the whole crew covered when you need a break from the sun.
This content is created and maintained by a third party, and imported onto this page to help users provide their email addresses. You may be able to find more information about this and similar content at piano.io
Advertisement – Continue Reading Below
Source link